Corey Michalek Completes A/fuel Dragster License Upgrade
Becomes second eligible MBR driver to participate in the NHRA's fastest semi-professional class
Licensed! Corey's 5.55 second lap at 261.47mph made him the NHRA's newest licensed A/fuel Dragster competitor!
In late August of the 2013 NHRA season, Corey Michalek began his A/fuel dragster licensing process during the annual U.S. Nationals test session at Lucas Oil Raceway Park in Indianapolis. Behind the wheel of the Dreher Motorsports dragster, and under the tutelage of Randy and Jared Dreher, Corey made 5 runs and ran his first 5 second pass at over 244 MPH to complete all but one of the required license upgrade runs at this time.
"The first time that it really hit me what I was doing was when I was backing up from my burnout and I could smell nitromethane—and it was coming from the car that I was driving. That was a surreal moment for me," said Corey. "My body was on autopilot at that point from all of the preparation that I had done in the months beforehand, so when the Drehers gave me the signal to stage the car, I was confident and I bumped it right in as if I were driving our old Super Comp dragster. Any similarities between the two cars ended at that point."
The experience gained during the first session gave Corey valuable insight into what it takes to command a 3,500 horsepower, injected-nitro dragster down the quarter-mile.
"I made a concentrated effort to have my head as far back as I could get it and to have my body positioned the way that I wanted it to be before mashing the throttle, but this type of car does not care whatsoever," said Corey.
"

It absolutely plants you in the seat from the moment it launches until the moment you lift. The aggressiveness of the acceleration is truly spectacular and everything happens at an extremely rapid rate.

"
Following the first licensing session, Corey anxiously waited 8 weeks for his opportunity to complete his licensing procedures. Once the team returned to Indianapolis in late October, Corey picked up right where he left off and ran a career best pass of 5.55 seconds at over 261 MPH the first time back in the car. This finalized the licensing process and put an exclamation point on a wildly successful 2013 season for Michalek Brothers Racing.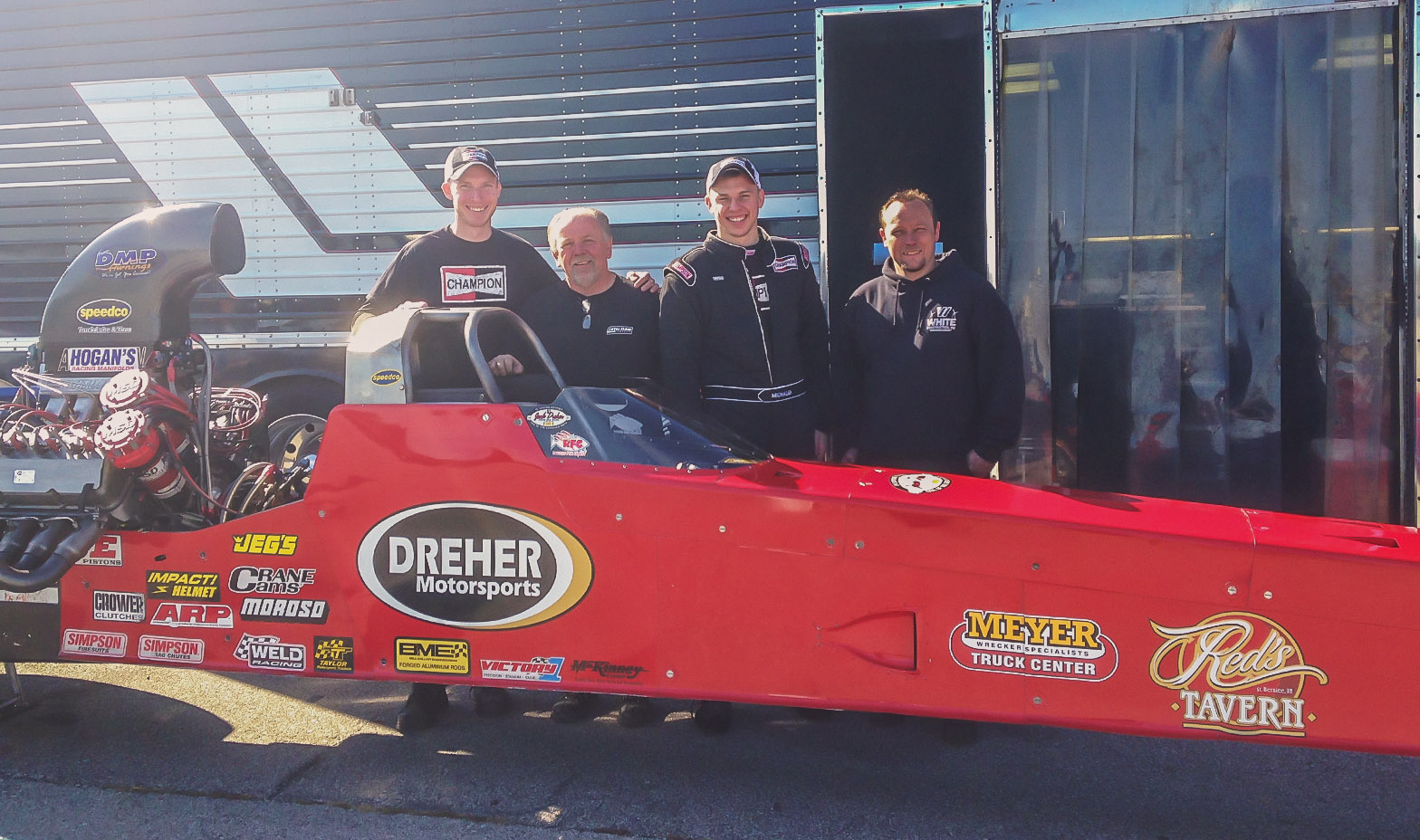 Kyle and Corey stand with car owners Randy and Jared Dreher after Corey completed his license upgrade to an A/fuel dragster.
"By the time that we returned to Indianapolis in October, I had probably made 5,000 practice runs in my head going over and over everything that I had learned during my initial laps in the car," Corey said. "We showed up with one goal in mind: to finish the licensing process right then and there; first attempt at going down the track."
Kyle gets #TeamChampion driver Corey suited up for his final licensing lap at Lucas Oil Raceway at Indianapolis.
"The Dreher's put a safe tune-up in the car and it hooked up and hauled the mail all the way through the finish line with no problems whatsoever. I can't even begin to express how appreciative I am to have had the opportunity to drive their car."
Kyle Michalek, MBR's first licensed A/fuel dragster driver, also expressed his excitement about having Corey licensed to compete in the NHRA's premier semi-professional class.
"I am really proud of the way Corey stepped up and handled the car," said Kyle. "He thoroughly prepared for this opportunity, and the results reflect his commitment to being a successful competitor. Corey improved each time he got behind the wheel and I look forward to watching him race in 2014."
Michalek Brothers Racing would like to thank Randy and Jared Dreher and the rest of the Dreher family for their support and guidance during the licensing process. MBR also acknowledges that none of this would have been possible without the generous support from our partners at Federal Mogul: Champion Spark Plugs, Fel-Pro, Sealed Power, and Speed Pro.
For additional MBR information and updates, please "like" the Michalek Brothers Racing Facebook page, subscribe to MBR's YouTube channel, and follow @MichalekRacing on Twitter and Instagram.