Corey Michalek Posts Runner-Up Finish to Defending National Champion, Chris Demke, in Norwalk
Kenan Advantage Group A/fuel dragster has second consecutive strong National Event showing
The Kenan Advantage Group A/fuel dragster came out of the box strong on Friday afternoon, opening up the weekend with a 5.371 second pass at nearly 266MPH.
Michalek Brothers Racing (MBR) and Dreher Motorsports entered the 9th Annual Summit Racing Equipment NHRA Nationals in Norwalk, Ohio on a mission to mix it up with some of the best Top Alcohol Dragster racers in the country on 4th of July weekend. Corey Michalek returned to the driver's seat hoping to feed off the momentum built during the team's semi-final finish in Houston just a few months back when brother Kyle Michalek was behind the wheel. This marked the first time that the younger Michalek had piloted the Dreher Motorsports A/fueler since bowing out early at the NHRA Four-Wide Nationals in Charlotte, North Carolina this past March.
"I preached it before the race and I preach it every time someone asks us about driving… Kyle and I make less than 10 runs a year," Corey stressed. "We put so much emphasis on taking advantage of every single opportunity that we get to stand on the gas in one of these cars. When we pull up to the line, I believe we have a different approach, a different sense of urgency than maybe a driver who runs 12-15 races a year. If we throw away an important qualifying run or a pass in eliminations, that's it for us for the year. We just want to do whatever we can to make as many runs as possible."
Corey hit the track for qualifying on Friday afternoon and promptly opened up the weekend with a 5.371 second pass at nearly 266MPH; good enough to sit in the preliminary #3 qualifying position. The team then followed up their opening run with strong 5.412 and 5.365 second laps to enter eliminations in the #5 spot to set up a first round matchup with Brandon Greco. This would mark the first time that Michalek and Greco had squared off in competition and Corey never trailed in the race, winning with a 5.401 second lap at 263.51MPH. The team's performance was good enough to earn lane choice over the nitro-injected machine of long-time A/fuel juggernaut Rich McPhillips on Sunday.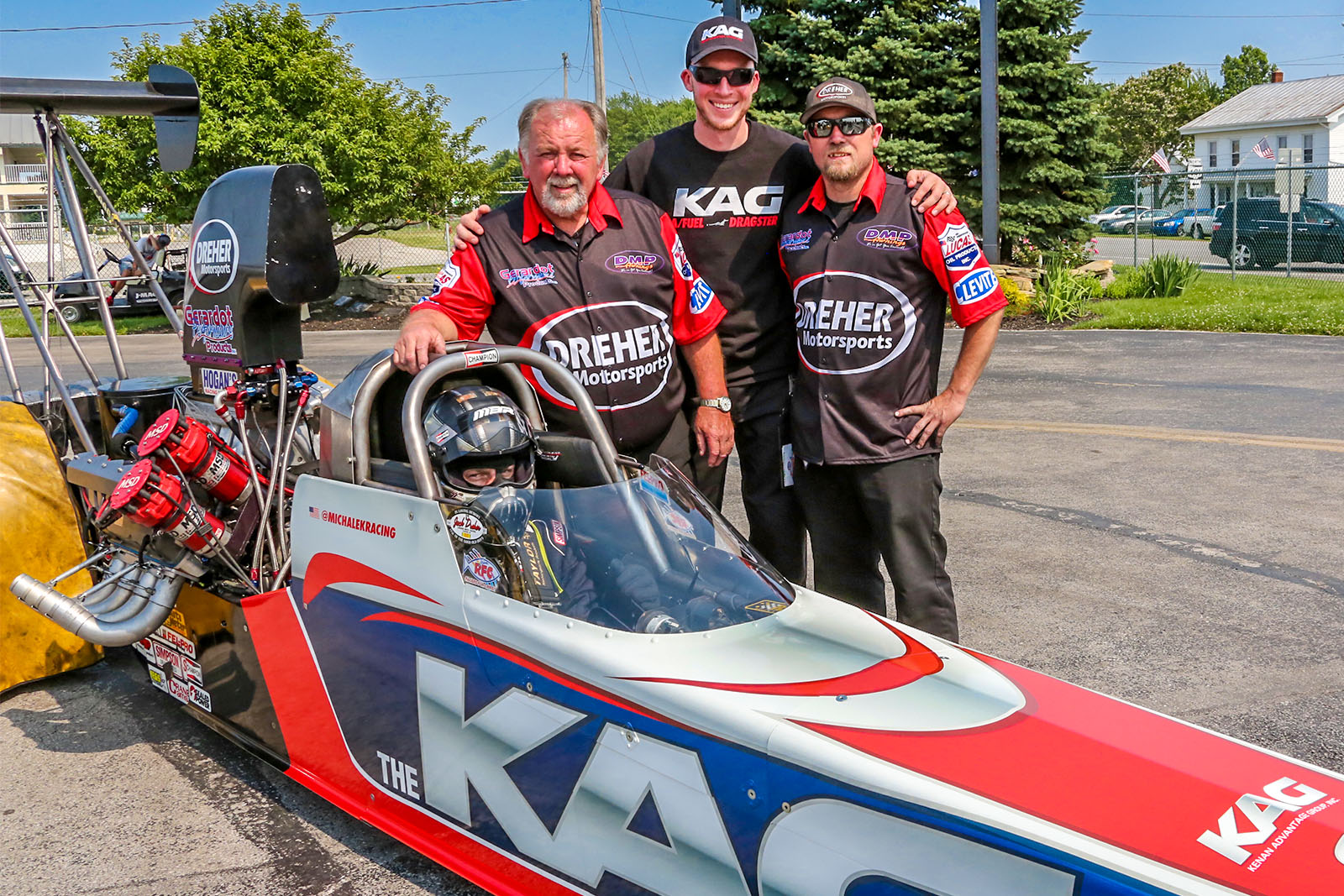 The Michalek Brothers Racing and Dreher Motorsports teammates: Randy Dreher, Kyle Michalek, Jared Dreher, and Corey Michalek. (Photo credit: David Smith)
The tuning duo of Randy and Jared Dreher put their minds together on Saturday night and Sunday morning prior to the quarterfinals matchup with McPhillips and set the car up for its best run of the weekend in which the Kenan Advantage Group A/fuel dragster covered the quarter-mile in 5.330 seconds at over 262MPH.
"The 5.33 to kick off our day on Sunday really started building momentum for us," said Corey. "The Drehers just flat-out made a heck of a call. That was our quickest pass of the weekend by over 3-hundredths of a second and it was the second-quickest pass of the round. It was at this point that it dawned on me how similar this weekend was playing out to the way the 2014 Four-Wide nationals race played out. In that race, we qualified #5, we took out a blown car in the first round that had their 'chutes come out during the run, we faced the #4 and #1 qualifiers (both of which were some of the best A/fuel cars in the county), and then there would be a stout blown car waiting for us in the final if we made it there."
The Kenan Advantage Group A/fuel dragster raced in front of a packed house at Summit Motorsports Park in Norwalk, Ohio all weekend long.
Before thinking about racing for the trophy, Corey would have to get by Mia Tedesco, the event's #1 qualifier. Mia not only qualified on the pole, she also ran low elapsed time of the event in the quarter-finals and held lane choice in the matchup by nearly a tenth of a second. When the light turned green, Corey had a sizeable jump off the starting line and the Dreher horsepower was able to hold off a late, hard-charge by Tedesco by .004 seconds (about 20 inches) to propel MBR and Dreher Motorsports into a final round matchup against Chris Demke.
"The semi-final win was huge," said Corey. "We managed to claw past the number 1 qualifier and it set us up with the defending NHRA Top Alcohol Dragster National Champion, Chris Demke, with a Wally on the line. When you dream about winning a race, you dream big. You want to do it by beating the best. That opportunity was now right in front of us."
Demke, the #2 qualifier, lived in the mid-5.30's all weekend and owned lane choice going into the final round. Both Corey and Chris charged off the starting-line with nearly identical reaction times, but from there Demke was able to steadily pull away to claim his second national event win of the 2015 racing season. Corey reflected on the team's successful weekend.
"We gave it everything we had and just came up short; no excuses," said Corey. "It stings to get that far and to come so close to sealing the deal, but we can't hang our heads with the results. The Dreher Motorsports team worked tirelessly to get the car ready round-after-round and we were in it until the very end. Major props to Chris Demke and his team for a job well done!"
With the conclusion of the 2015 Summit Racing Equipment NHRA Nationals, Michalek Brothers Racing now shifts its focus towards acquiring additional partners and working towards an expanded schedule for 2016.
"Even though our on track time was brief in 2015, we made the most out of our opportunities bringing home semi-final and runner-up finishes and can't thank Dreher Motorsports, the Kenan Advantage Group, and Champion Spark Plugs enough," said Kyle. "We have great partners and could not do this without them. We have a lot of work ahead of us getting ready for the 2016 season, and we're looking forward to getting back to the track and putting some fire in the pipes!"
For additional MBR information and updates, please "like" the Michalek Brothers Racing Facebook page, subscribe to MBR's YouTube channel, and follow @MichalekRacing on Twitter and Instagram.