Kiko Landscape Design Joins Michalek Brothers Racing
An announcement that is over 20 years in the making is now official. Kiko Landscape Design has joined Michalek Brothers Racing as an associate sponsor for the remainder of the 2018 season aboard the team's 4,500 horsepower A/fuel Dragster.
"Aaron Kiko has not only been friend, but also a loyal supporter of our racing program since day 1", said Kyle Michalek. "It wasn't that long ago that he was joining us at Quaker City Raceway as we cut our racing teeth as bracket racers. It has been a lot of fun having his support as we have progressed our racing careers while also watching his business grow at the same time. We are very excited to move forward with this partnership."
Kiko Landscape Design and Michalek Brothers Racing will debut their newly formed partnership this Saturday, August 11, at the 41st running of the Kelly Services Night Under Fire, this Saturday night at Summit Motorsports Park in Norwalk, Ohio.
"This a very proud moment for me as we form this partnership," said Aaron. "I have called these guys friends for a long time. I have watched them from day one and was alongside Corey at Norwalk when he got hooked on the sport. This is definitely a long time coming, and I am very much looking forward to it. They have come a long way in the last few years and I know this only the beginning of huge things to come for them as individuals and as a team."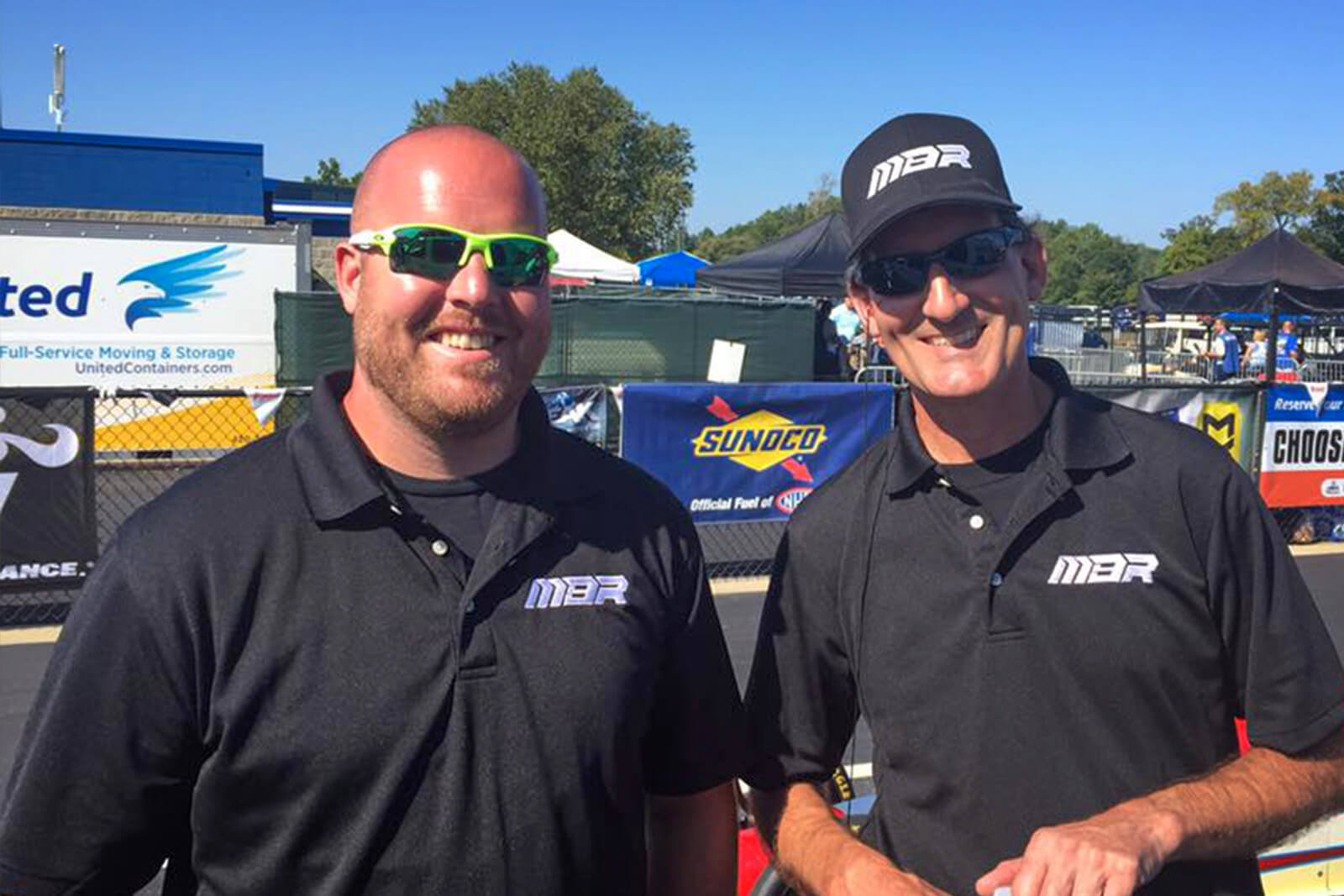 Kiko Landscape Design founder, Aaron Kiko (left), with MBR crew member, Doug Kotter, at the 2017 NHRA Carolina Nationals.
Kiko Landscape Design, founded in 2006 by owner Aaron Kiko, is located in Stark County, Ohio and offers everything from decorative concrete designs, in-ground pools, to landscape designs. For more information, please visit www.aaronsdesignandlandscape.com and like Aaron's Design and Landscape, LLC on Facebook.
"This is both a humbling and a proud opportunity for Kyle and I," said Corey. "Aaron has been a long-time supporter of our team and we've witnessed him build his business from the ground up, starting with a single lawn account, to where he is now as one of the premier landscape design contractors in Northeast Ohio."
"The fact that he has chosen to invest in MBR as we continue to build our team in an effort to reach our goal of running for points in this class says a lot about his commitment to partnering with individuals that he sees as having the same commitment to success in their endeavors the way he has had while building his business. We can't wait to put the car on track for the first time this Saturday in Norwalk with the Kiko Landscape Design branding on it to debut the partnership."
The 2018 Night Under Fire kicks off Saturday, August 11 with pre-race ceremonies at 5:30PM and showtime starting at 7:00PM. Gates open at 8:00AM for fans wanting to come early, meet the drivers, and see pre-race qualifying and testing. Reserved seats and general admission tickets are nearly sold out. For last minute purchases, visit www.summitmotorsportspark.com.
For additional MBR information and updates, please "like" the Michalek Brothers Racing Facebook page, subscribe to MBR's YouTube channel, and follow @MichalekRacing on Twitter and Instagram.