Kyle Michalek Successfully Qualifies MBR in the Team's First Ever National Event
Kyle Michalek made MBR's debut at an NHRA national event successfully qualifying for the field of 16 to participate in final eliminations. Kyle had the better reaction time against Ken Perry but was unable to hold him off at the finish line. (Footage courtesy of ESPN2)
The Michalek Brothers Racing A/fuel dragster sponsored by Champion Spark Plugs qualified #10 at the 7th annual Summit Racing Equipment NHRA Nationals in Norwalk, OH. This was the team's first NHRA national event as competitors.
"It is a great privilege and a lot of fun to be able to compete and promote the brands that support our team at an NHRA national event. We have been coming to national events as spectators and crew members for over 10 years and it is really special to be able to finally compete at this level," said Kyle.
The weekend started out slow with rain on Friday but cleared just long enough in the late afternoon to make a qualifying run.
"We had mechanical issues during Q1 and unfortunately lost the 2nd Friday qualifying session to rain. Even though we were in the field at the #16 spot, we knew that we had to step up and make a good run during the final qualifying session on Saturday morning," said Kyle.
The team worked hard Friday night in preparation for Saturday making an engine swap and checking the car to make sure all systems were ready for the final qualifying run. During Saturday morning's qualifying session the team made a great 5.45 second pass at 253 MPH to put them solidly in the field at the #10 spot. Kyle was pleased with the car's performance.
"I knew the car was on a good run when it left the line and it carried through to the finish line. We were very proud to be able to make the show at our debut national event within a very strong field of competitors."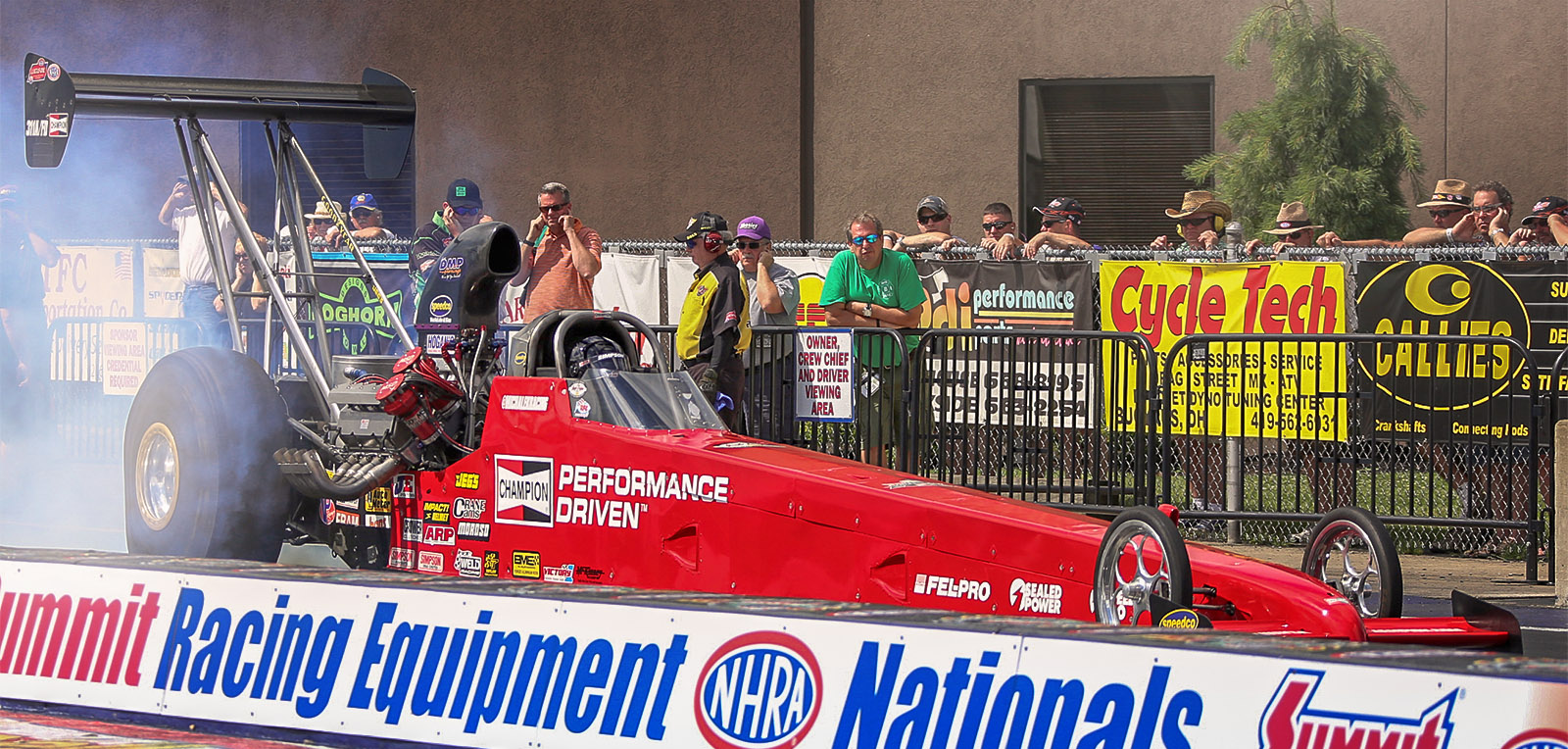 Kyle Michalek burns out during Saturday morning's qualifying session prior to laying down a 5.45 second lap at 253MPH to snag the #10 qualifying spot. (Photo credit: David Smith)
Corey and car co-tuner, Randy Dreher, put finishing the touches on a freshly installed motor prior to Saturday morning qualifying at the Summit Racing Equipment NHRA Nationals.
The first round of eliminations had Kyle Michalek matched up against Ken Perry, another North Central driver and a consistent top 10 finisher in the national points standings. Kyle left the line first but began losing ground soon after as the car's performance fell off slightly from qualifying. Ken Perry would end up winning the round with a 5.44 to Kyle's 5.54 second pass.
"We wanted to go rounds this weekend and pick up where we left off at the Norwalk regional event this year but it wasn't our day during eliminations," said Kyle.
"

However, we still had a great weekend and really appreciate all of the continued support we received from the Dreher family, Champion Spark Plugs, Fel-Pro, Speed-Pro, Sealed Power, and all of our family and friends who came out to cheer us on.

"
As the Mello Yello Series tour heads out west for the next month and a half, Michalek Brothers Racing is busy preparing a potential return to NHRA competition before the conclusion of the 2013 season. MMBR will announce an updated schedule as plans become official.
For additional MBR information and updates, please "like" the Michalek Brothers Racing Facebook page, subscribe to MBR's YouTube channel, and follow @MichalekRacing on Twitter and Instagram.