MBR Defeated at U.S. Nationals by 6-Thousandths of a Second
Returns to competitive form with 4 solid runs
Michalek Brothers Racing (MBR) raced to a qualifying spot in the top half of the field at the 69th running of the NHRA U.S. Nationals in Indianapolis, Indiana. In one of the closest races of the weekend, MBR's Fund That Flip/Safe-T-Support hot rod led all the way past the 1000' mark until Jackie Fricke was able to sneak by at the stripe by just .0064 seconds in the opening round of eliminations.
Despite the early exit, team Crew Chief Kyle Michalek emphasized the success of the weekend after the team's entry showed both consistency and performance after a tough summer stretch.
"We needed a weekend of consistent and full pulls down the track," said Kyle. "It was important to get back in a rhythm to end the year strong during our final two events of the season. I'm proud of the work the team has put in to enable us to make runs that we're among the top 5 or 6 quick runs of every session during the biggest race of the year. We know we have a competitive car and are right there with the best of the field. I cannot wait to get to Charlotte and finish this year on a high note!"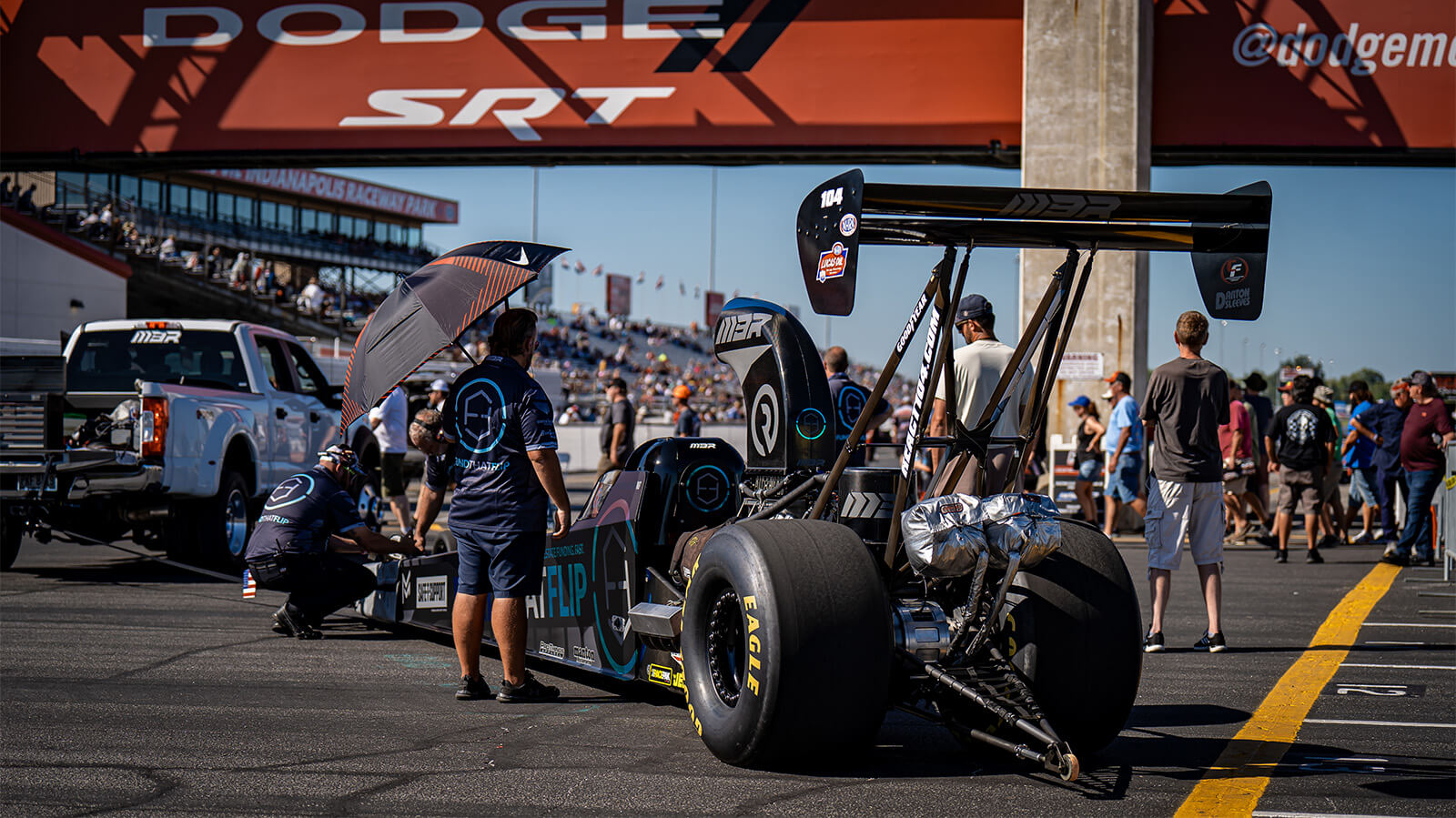 Michalek Brothers Racing pulls through the staging lanes prior to making one of their 4 runs at the 2023 NHRA U.S. Nationals. (Photo: Krista Zivcic)
Michalek Brothers Racing now looks to carry the momentum from Indianapolis into their final event of the year in less than 3 weeks at the Betway NHRA Carolina Nationals at zMAX Dragway (get directions) the weekend of September 22-24. Tickets for the event are on sale now and can be purchased here.
"I can't wait for Charlotte," said Corey. "Our whole team feels rejuvenated and hungry after the weekend we had in Indianapolis. It was a great performance by the whole team from top to bottom and we feel that there's still room for further improvement before we set our sights on 2024. zMAX Dragway is a staple on our schedule each year and it's a place we've had success at in both the four-wide and traditional race formats. The countdown to pull into that spectacular facility is officially on!"
For additional MBR information and updates, please "like" the Michalek Brothers Racing Facebook page, subscribe to MBR's YouTube channel, and follow @MichalekRacing on Twitter and Instagram.