Michalek Brothers Racing Kicks Off Biggest Year Yet in Gainesville
Competing at famed east-coast opener for first time
Michalek Brothers Racing (MBR) heads south to Gainesville, FL this weekend to kick off their 2022 campaign at the prestigious Amalie Motor Oil NHRA Gatornationals. This first stop marks the start of MBR's most ambitious campaign to date where the team will compete in 7 events contested in Florida, North Carolina, Ohio, Indiana, and Texas from March to October.
Michalek Brothers Racing heads to Gainesville with a new-look Fund That Flip hot rod
MBR will arrive in the Sunshine State hoping to build off of the momentum from a strong finish to the 2021 season that saw the team make 6 of their 8 quickest runs all time at their final two races of the year. With the full crew returning and 5 months of preparations in the books, team Crew Chief Kyle Michalek has high for the start of the year.
"We ended 2021 with a lot of momentum and the offseason was busy with activities to build upon what was working and addressing a few areas with performance potential," said Kyle. "We can't wait to get to the track to keep working on our combination and get some fire in the pipes!"
MBR will roll their injected-nitro entry to the starting line for the third year in a row with primary backing from Fund That Flip, a fast, reliable real estate capital partner, as well as continued major support from The Empowerment Alliance. This event also kicks off MBR's newly formed partnership with Right Trailers.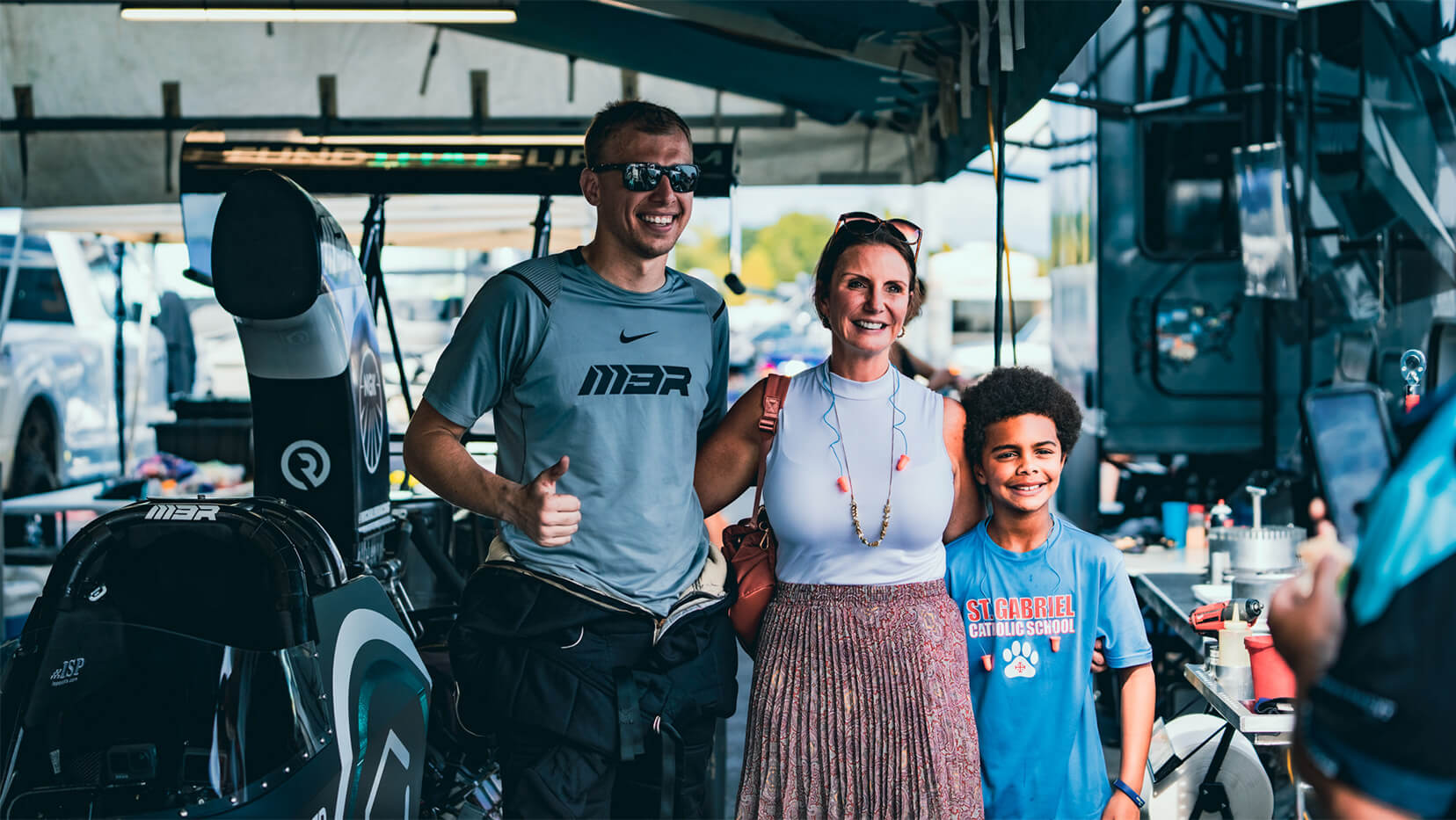 Michalek Brothers Racing driver Corey Michalek with Fund That Flip guests at the 2021 NHRA Carolina Nationals. (Photo: Krista Zivcic)
"Somehow our shortest offseason ever felt like one of the longest," said Corey Michalek. "We found plenty of ways to stay busy between working to improve the performance of the car, to focusing on optimizing our pit setup, to moving shops; it's been a grind. But, having all of those long days and nights behind us, we feel confident that our preparations are going to pay dividends in multiple areas, and we're excited to have the opportunity to take the Fund That Flip hot rod down to Gainesville to try to run with the best cars in the country."
MBR will hit the track for the team's first qualifying run this Thursday at 4:00PM, followed by two more qualifying sessions on Friday at 11:00AM and 1:35PM. The sixteen qualified cars will then square off for the first round of eliminations on Saturday afternoon at 4:00PM, and then the final three rounds of eliminations are set to be contested on Sunday at 8:30AM, 1:10PM, and 3:50PM. Tickets for the event can be purchased here.
For additional MBR information and updates, please "like" the Michalek Brothers Racing Facebook page, subscribe to MBR's YouTube channel, and follow @MichalekRacing on Twitter and Instagram.