Michalek Brothers Racing Locked in for 3 Race Ohio Stretch
Prepped to run 3 races in 6 weeks
Michalek Brothers Racing returns to action this weekend for the first time in 2 months. MBR will be participating in the 2022 Summit Racing Equipment NHRA Nationals in Norwalk, Ohio.
Michalek Brothers Racing (MBR) officially enters the busiest part of their 2022 schedule as the team kicks off a three-race tour in Ohio at this weekend's NHRA national event in Norwalk. MBR travels to Summit Motorsports Park (get directions) after a nearly two month break following their most recent event at the NHRA Four-Wide Nationals in Charlotte, North Carolina.
After traveling to stops in the southeast U.S. to kick off the 2022 season, Michalek Brothers Racing digs in to defend home turf inside state lines for 3 events over the course of the next six weeks. The team's Buckeye State campaign starts with this weekend's Summit Racing Equipment NHRA Nationals (get tickets).
"We have two races under our belts so far this year, but it feels like it has been a long time since we have been at the track," said Kyle. "We enjoyed our win Sunday evening at Charlotte, but since we pulled out of the parking lot on Monday morning after that race, we have been hustling everyday. We have serviced the car, built inventory to carry us through the next several races, and moved into our new race shop. We cannot wait to get back to the track this weekend and get some fire back in the pipes!"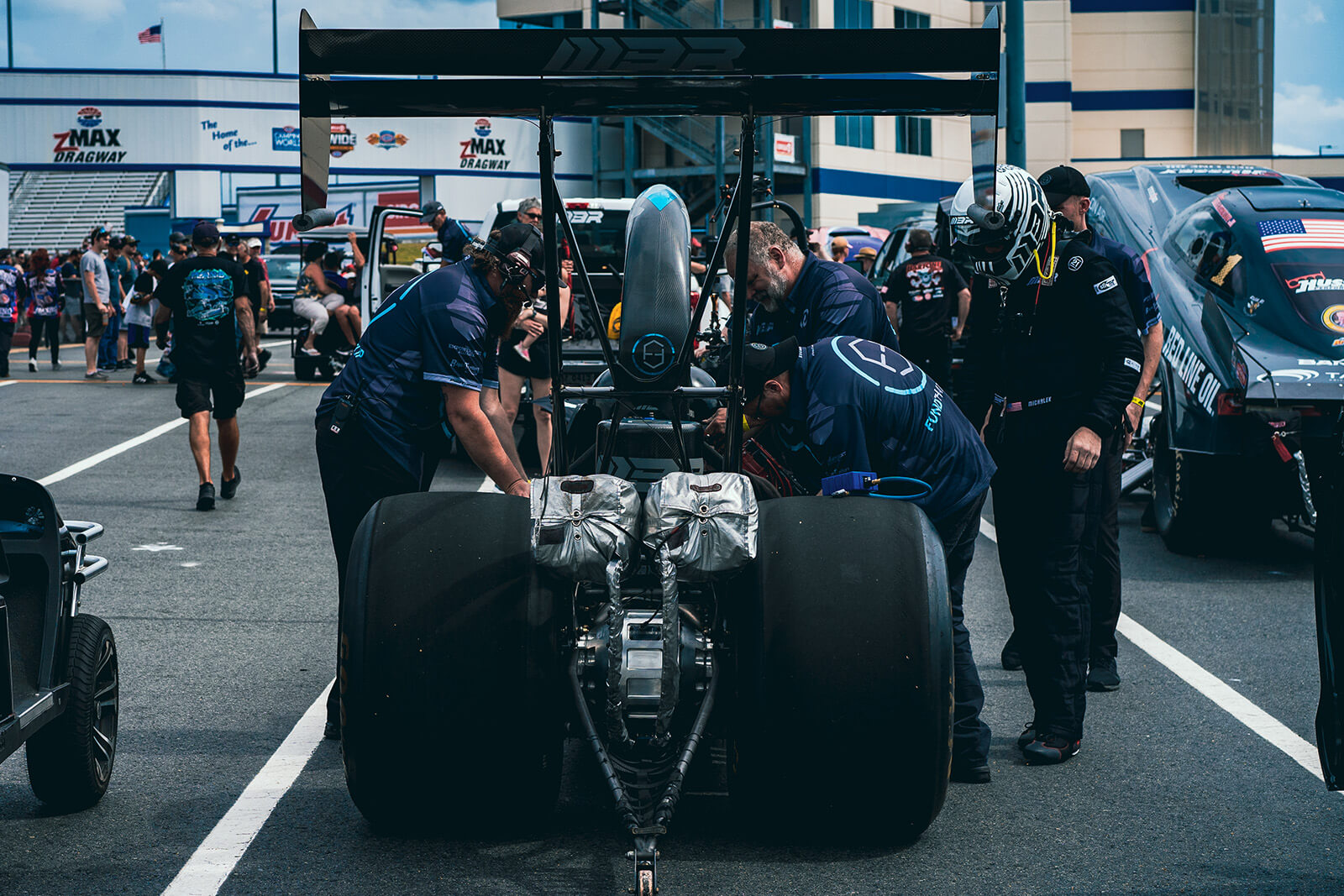 Michalek Brothers Racing has been hard at work since their last race, the 2022 NHRA Four-Wide Nationals in Charlotte, North Carolina, preparing for their upcoming 3-race Ohio stretch. (Photo: Krista Zivcic)
Summit Motorsports Park will be bustling all weekend long with cars rocketing down track from Thursday through Sunday. MBR and the rest of the field of Top Alcohol Dragsters have their sights set on Friday morning when the first round of qualifying kicks off at 12:00PM followed by a second qualification round at 2:30PM. The action then gets cranked up another level on Saturday with final qualifying at 10:15AM and the first and second rounds of eliminations at 2:40PM and 6:45PM. The four remaining cars will then square off in semi-final matchups at 2:20PM on Sunday afternoon, followed quickly after by the final round of eliminations at 3:45PM with the Wally and the infamous Summit Motorsports Park ice cream scoop trophies on the line.
"To be honest, I'm actually more hungry for us to do well moving forward than I was prior to our win in Charlotte," said Corey. "We're extremely fortunate to have tasted national event success twice so far, but this time around I'm coming into the follow-up event knowing we have a significant amount left to prove. We left a lot on the table down there, but we found a way to win. I know I can be better, and quite frankly, have to be better behind the wheel, and Kyle and Adrian are far from satisfied with the current performance of the car. We are all focused on stepping up what we bring to the table, and I feel confident that we can inch closer to what we know we are capable of."
"We really savored that victory 8 weeks ago, but the truth of the matter is that it means absolutely nothing this weekend other than it being a motivating factor for other teams to try that much harder to make sure it doesn't happen again. At the end of the day, it's about setting high goals and continuing to raise them once they're achieved. If you don't, somebody will blow right past you while you're telling yourself what a great job you've done. We can't fall into that trap and we're coming to Norwalk ready for the next challenge."
For additional MBR information and updates, please "like" the Michalek Brothers Racing Facebook page, subscribe to MBR's YouTube channel, and follow @MichalekRacing on Twitter and Instagram.