Michalek Brothers Racing Returns to Charlotte with Unfinished Business
Motivated by record-breaking outing at NHRA U.S. Nationals
Michalek Brothers Racing will be handing out FREE Empowerment Alliance t-shirts to fans at zMAX Dragway who sign up for The Empowerment Alliance at empoweringamerica.org.racing this weekend.
The last time Michalek Brothers Racing (MBR) sent the Fund That Flip / Empowerment Alliance A/fuel dragster rocketing down the zMAX Dragway quarter-mile, the team was on pace for its quickest and fastest pass before the run ended in carnage due to a broken crankshaft and a resulting oil fire prior to reaching the finish line.
Fast forward 4 months later and MBR returns to Charlotte (get directions) with a renewed determination to conquer a track that has been home to some of the team's highest highs and lowest lows. The 2021 DeWalt NHRA Carolina Nationals will be MBR's second visit to zMAX Dragway's annual Fall event after finishing runner-up at the 2017 edition.
Looking back at the 2021 season, we have made progress both on and off the track," said Kyle. "The performance of the car continues to improve each race, the crew continues to do a great job preparing the car, and we have introduced NHRA fans to the Fund That Flip and Empowerment Alliance brands. We are excited to build on this progress and finish out this year strong!"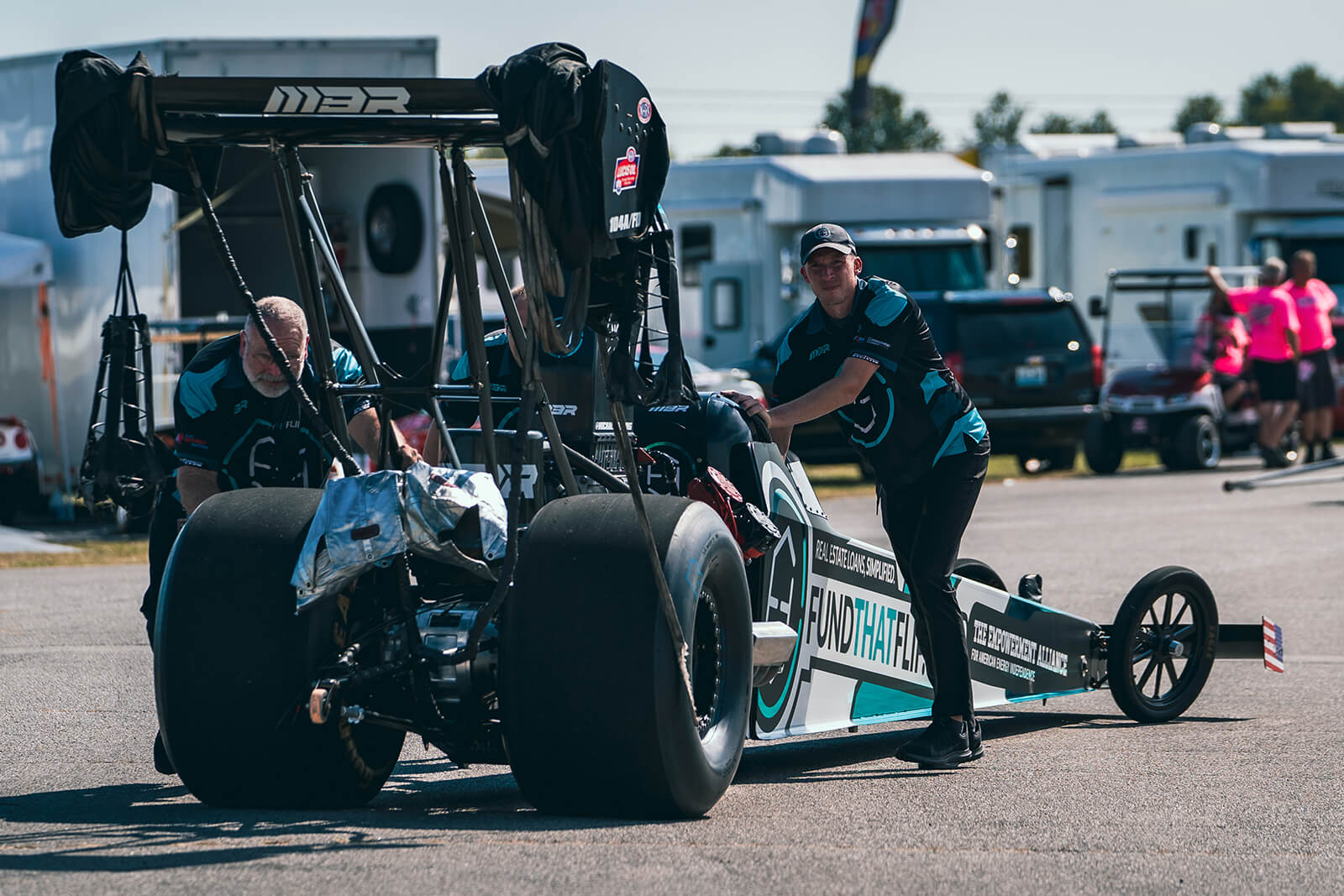 Michalek Brothers Racing returns to zMAX Dragway this weekend looking to reconquer a track that has been polarizing to the team. (Photo: Krista Zivcic)
Michalek Brothers Racing is coming off a performance just one week ago at the NHRA U.S. Nationals that saw the team make its four quickest and fastest runs to date. Team co-owner Corey Michalek is anxious to close the year out on a high note.
"I can't believe we're already gearing up to head back down to Charlotte," said Corey. "This year has been an absolute whirlwind of highs and lows, but the men and women on our team have made it an absolute blast each time we've worked together in the shop or at the track. We have been chipping away at getting the car to run hard ever since the fire we had earlier in the year at Charlotte, and the performance we have all been working towards really started to show this past weekend in Indy. We're extremely anxious to put the car back on track and hopefully continue improving at a track that we've proven in the past that we can win rounds."
"I'm thankful that our partners from Fund That Flip, The Empowerment Alliance, and now NGK Spark Plugs have been on this ride with us this year, and I'm hopeful that we can deliver them some win lights this weekend to close out 2021!"
Michalek Brothers Racing returns to the fall Charlotte event for the first time since 2017 where they turned in a runner-up finish to Shawn Cowie.
MBR will hit the track for the team's first two qualifying runs this Friday at 1:00PM and 4:15PM, followed by final qualifying at 11:30AM on Saturday morning. The sixteen qualified cars will then square off for the first two rounds of eliminations on Saturday afternoon and evening at 3:30PM and 7:15PM, and then the final two rounds of eliminations are set to be contested on Sunday at 12:30PM and 3:00PM. Tickets for the event can be purchased HERE.
For additional MBR information and updates, please "like" the Michalek Brothers Racing Facebook page, subscribe to MBR's YouTube channel, and follow @MichalekRacing on Twitter and Instagram.