Michalek Brothers Racing Runs Career Best Elapsed Time En Route to Quarter-Final Finish at 2022 NHRA Gatornationals
Michalek Brothers Racing (MBR) closed out a marathon week in Gainesville, Florida with a top half qualifying position and a round win at the 2022 Amalie Motor Oil NHRA Gatornationals.
Michalek Brothers Racing driver Corey Michalek blasts off the starting line during the pre-race test session.
In an event plagued by rain, delays, and record-low temperatures, MBR persevered when it came time for the Top Alcohol Dragster class' one and only qualifying session on Saturday afternoon by running a 5.33 at 278MPH to land in the #8 spot to set up a first round matchup on Sunday against Dan Page.
Sunday's delayed start due to cold temperatures was worth the wait as MBR stopped the clocks in 5.187 seconds at 278.58MPH, shattering the team's best elapsed time by nearly a tenth of a second. This run was not only good enough for the round win, but it also held up as the quickest run through the first two rounds of eliminations.
"Even though our pre-race test session was cut short, we knew that the changes we made over the offseason had potential," said Kyle Michalek. "Our new combination is showing promise even after only one run. We don't have a lot of data overall, let alone with the new setup, and with conditions being so good for first round of eliminations we knew we had to come with an aggressive setup, but it was also a little bit of a shot in the dark based on not having any prior runs for comparison."
"Seeing the win light come on was immensely gratifying and it validated all of the team's persistence and hard work over the offseason. I did not initially see the elapsed time because I was focusing on the win light, but when I saw that we had run the 5.18, that was one of the most satisfying moments that we've had since stepping up to run in the Top Alcohol class."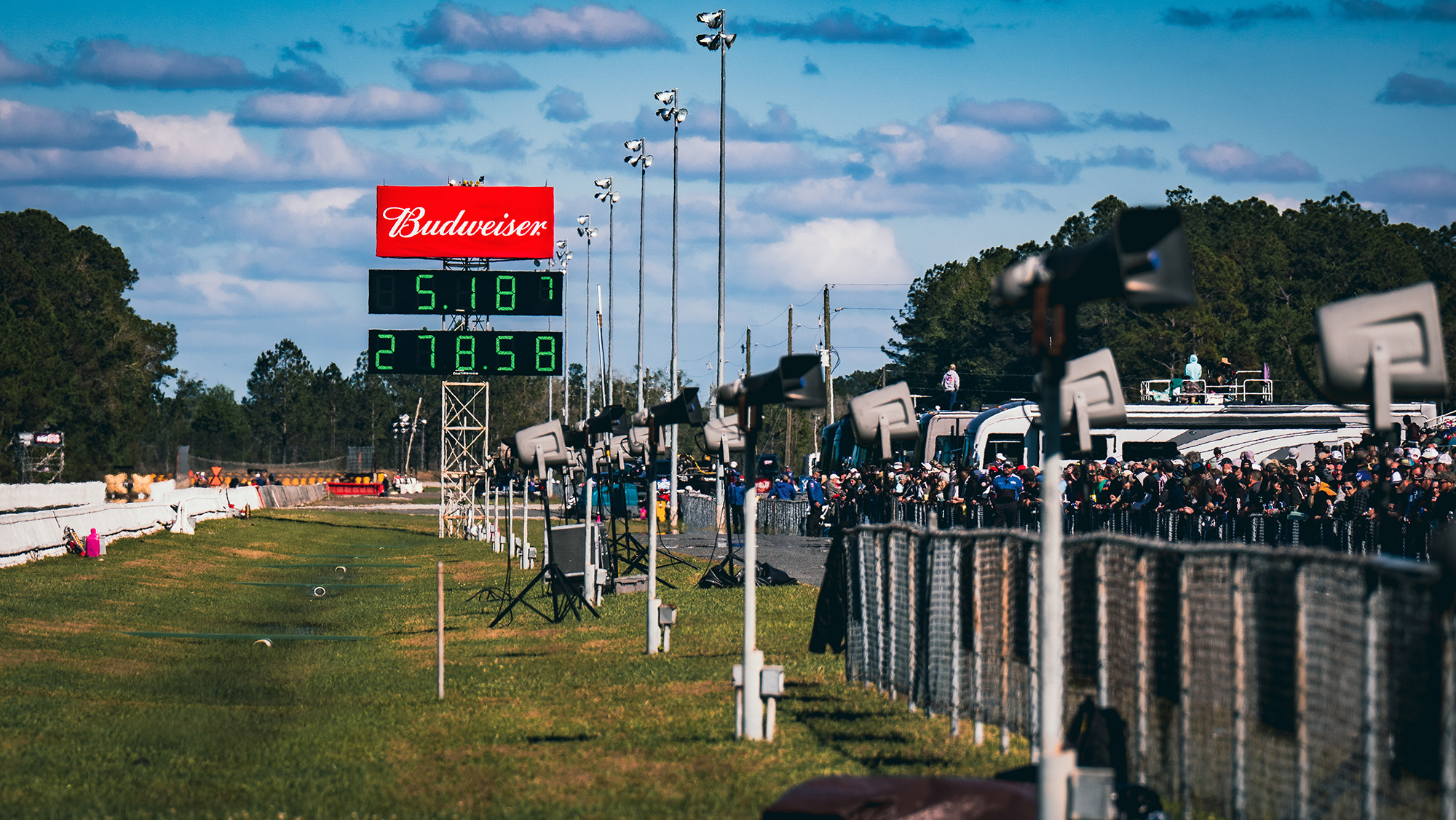 Michalek Brothers Racing's 5.187 second lap in the first round of eliminations was quick enough to reset their career best elapsed time by nearly a tenth of a second. (Photo: Krista Zivcic)
After a strong pass to kick off eliminations, Michalek Brothers Racing pulled up to the starting line for a quarter-final matchup against #1 qualifier Julie Nataas. MBR held lane choice over the #4 ranked team in the world from 2021, but things went awry early as a mechanical failure prevented MBR's injected nitro dragster from performing a burnout and building heat in the brakes to aid in the staging procedure. MBR's day ended at the hands of a red light and instant tire smoke as Nataas streaked to a 5.21 second lap at 270MPH to earn the round win.
"This was an unbelievable weekend in many ways," said Corey Michalek. "I have never been at a racetrack longer than this event, I have never seen worse conditions during the course of a weekend than this event, and I have never been more excited about the direction that we're going than leaving after this event. We took a risk with making the changes that we did over the offseason after finishing 2021 with momentum, but to see that kind of number pop up on the board during E1 after so few runs was major validation."
Michalek Brothers Racing debuted a new look dragster with Fund That Flip primary branding at the 2022 NHRA Gatornationals. (Photo: Krista Zivcic)
"We've got tremendous momentum going into our upcoming events and we are doing it with the most support we've ever had. We need to once again extend a very sincere thank you to Fund That Flip and The Empowerment Alliance for their continued support for the third year in a row, and we are so pumped to have had such a good performance to kick off our first race in partnership with Right Trailers."
Michalek Brothers Racing now sets their sights on race 2 of 7 on their 2022 tour at the NHRA Four-Wide Nationals in Charlotte, NC on the weekend of April 29-May 1.
For additional MBR information and updates, please "like" the Michalek Brothers Racing Facebook page, subscribe to MBR's YouTube channel, and follow @MichalekRacing on Twitter and Instagram.