MBR Wins 2019 Night Under Fire on Day of Greater Celebration
Kyle Michalek announces Stephanie Andrews Michalek Memorial Nursing Scholarship
Michalek Brothers Racing defeated Gutierrez Brothers Racing in a closely contested final at the 2019 Kelly Services Night Under Fire.
On a day that was highlighted by events off the racetrack, Michalek Brothers Racing (MBR) successfully defended their Night Under Fire title from 2018 in front of Summit Motorsports Park's largest single-day crowd in the track's storied history. MBR used two strong performances in the ENERGIZE A/fuel dragster during the show rounds, including a 5.37 second opening lap at 268MPH and a 5.31 second lap at 239MPH under the lights, to narrowly edge out J.P. Gutierrez and the rest of the MGM Grand Detroit team. The final lap of the night was quick enough to reset MBR's quickest E.T. as the team continues to inch closer to the 5.2-second performance barrier.
The biggest story of the evening; however, was a special presentation given during the pre-race ceremony by team co-owner and car chief, Kyle Michalek. Leading up to the race, Kyle worked with the Ohio University Undergraduate Scholarship Investment Program to create an endowment in Stephanie Andrews Michalek's name to enable Ohio University nursing students to pursue their dreams of helping others. Kyle presented Dean Randy Leite with a check for $100,000 during a special pre-race ceremony.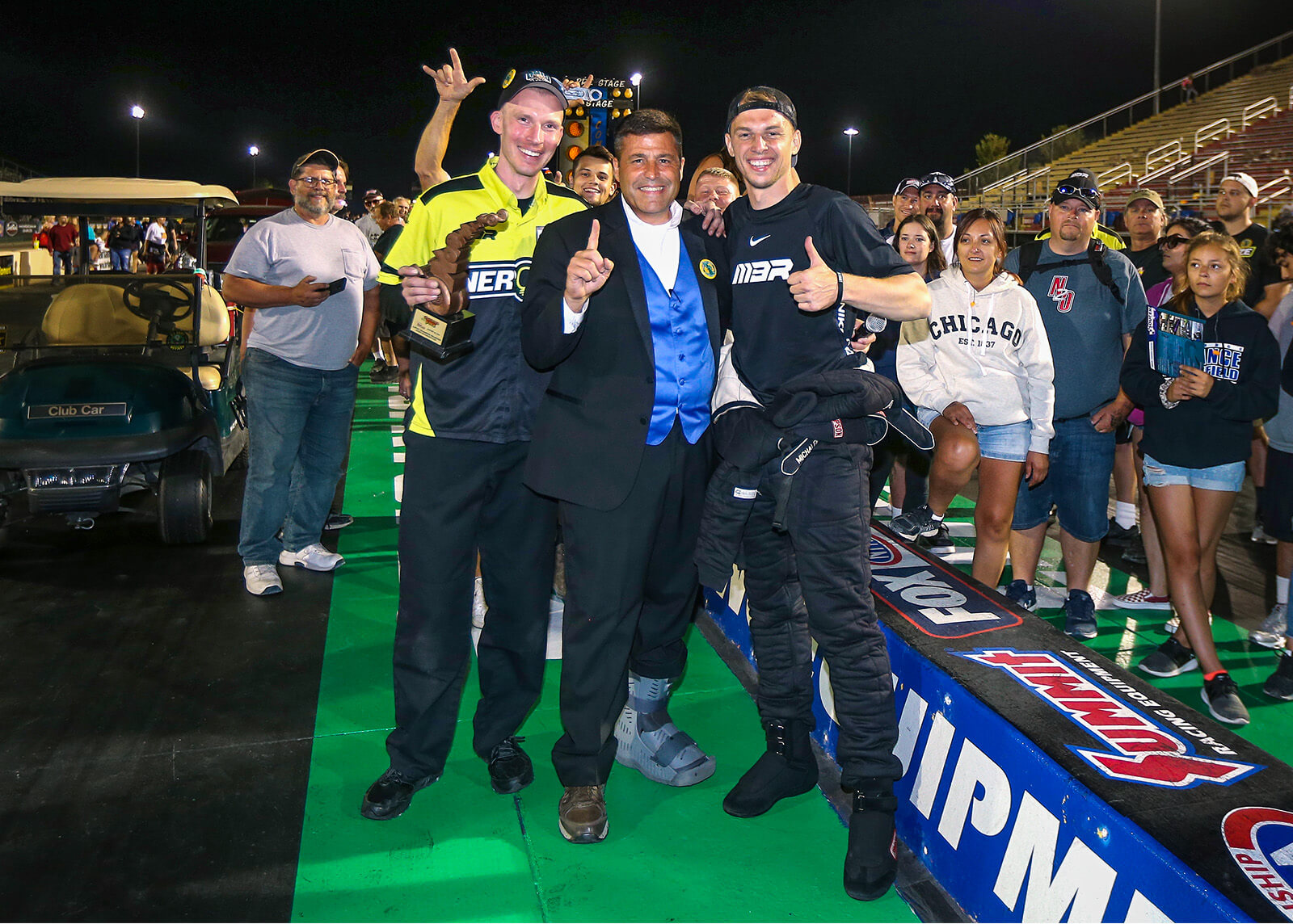 Michalek Brothers Racing successfully defended their title from 2018 as Night Under Fire Top Alcohol Dragster Champions with a 5.31 second lap at 239MPH in the final round.
"This weekend was a huge success, and I am so thankful I had the opportunity to announce the creation of the endowment that will honor my wife's legacy in perpetuity in front of all our family, friends, and a packed house at Summit Motorsports Park," said Kyle. "I can't thank Bill Bader, Jr. enough for providing me this incredible platform, and Dean Randy Leite of the Ohio University College of Health Sciences and Professions for coming out to the track to participate in the special presentation. Stephanie and I are both proud Ohio University graduates, and it is an incredible honor to partner with Ohio University and the School of Nursing to invest in future generations of nurses who will carry on Steph's legacy as skilled and compassionate providers of care. This was an evening and an event that I will never forget, and I am so thankful for the continued love and support that both my family and I continue to receive. Thank you!"
Team co-owner and driver for the event, Corey Michalek, took great pride in the whole team's efforts over the weekend.
Corey Michalek launches off the starting line en route to the team's quickest elapsed time to date.
"I'm so proud of our team from top to bottom," said Corey. "First and foremost, what Kyle did for Steph was more important than anything we did on track. As our team leader, he displayed the type of character and quality of human being that we want people to associate MBR with. The gesture he made in Stephanie's honor, and the way that he handled himself in the presence of friends, family, and over 40,000 people in attendance was remarkable. I don't think anyone on the property will ever forget that."
"As far as racing was concerned, I'm very thankful for the group of people that have committed themselves to making our team a success. From Chase and Clay Copeland continuing to inject their wealth of knowledge into our upstart team, to Cory Cox, Pat Maloney, Aaron Kiko, Brian Blankenship, John Michalek, and Doug Kotter dedicating themselves to ensure no detail is missed on the car, we showed up at the track for the first time in nearly a year and had 3 flawless turnarounds."
"We've only taken the car to the startling line 24 times since we've purchased it, and we just had a mid-.20 run stolen from us when the scoop let go on the night run. To think about where the car was when we first took possession of it, and to see where it is now, it's hard to comprehend. I have so much optimism for the future and it gives me a lot of motivation to continue to become a better driver for our next race."
Michalek Brothers Racing now shifts their focus towards an expanded race schedule for the 2020 season.
For additional MBR information and updates, please "like" the Michalek Brothers Racing Facebook page, subscribe to MBR's YouTube channel, and follow @MichalekRacing on Twitter and Instagram.