Michalek Brothers Racing Wins 2018 Night Under Fire
The ENERGIZE A/fuel dragster edges out J.P. Gutierrez with low elapsed time of the event
On a night that saw more fans pack their way through the gates than any other night before in the storied history of Summit Motorsports Park, Michalek Brothers Racing (MBR) walked away with the hardware in their first appearance at the 41st running of the Kelly Services Night Under Fire. A record-breaking sold out crowd of over 40,000 fans saw a hotly contested battle between the MBR A/fuel dragster entry and Gutierrez Brothers Racing's (GBR) blown alcohol dragster.
"We have attended this event multiple times as fans, and understand how special this race is; it was an honor to be asked to participate in the show this year," said Kyle. "The excitement of pulling to the starting line and looking out over the track to see a packed house with both grandstands filled to the max and fans lining up five deep along both sides of the track is hard to describe. It gives me chills just thinking about it. We are fortunate this event is located just two hours from home and we had lots of support from both family and friends who came out to share the experience with us at the track."
A record-breaking sold out crowd of over 40,000 fans saw a hotly contested battle between the MBR A/fuel dragster entry and Gutierrez Brothers Racing's (GBR) blown alcohol dragster.
The 2018 Night Under Fire, dubbed the biggest single day drag race in the world, slated 2 head-to-head matchups between MBR and GBR with the winner taking home a special edition commemorative trophy. In case of a split-decision, the tie breaker would be determined by low E.T. of the 2 competition rounds.
In the opening round of competition, Michalek Brothers Racing's ENERGIZE sponsored dragster made a statement run, stopping the clocks in 5.325 seconds while crossing the finish line at over 271MPH. Both numbers shattered the best marks the car had previously run and were enough to beat out J.P. Gutierrez's solid 5.457 second lap at 261.47MPH.
"The run we made in the first round of competition, given the circumstances, is something that will go down as one of the better moments in MBR history up to this point," said Corey. "This car has fought us non-stop since we got it, but Kyle, Chase, and Clay have been relentless, yet also patient, in their pursuit to continually chip away at getting it to dip into the low .30s. We came into the event with a plan of attack to sort out the fuel system with two moderate 330′ runs in the afternoon, and then we would unleash it during the show. The car picked up the front wheels when it launched and never stopped digging through the finish line. It was a massive payoff on the ultimate stage, especially doing it in the ENERGIZE car in the house that Bader built."
"I'm so grateful to be part of such an awesome team. It's a collective group of like-minded guys from top to bottom who all just love to race, and everyone is willing to do whatever it takes to get the best results possible. We don't get out that often, but damn do we work hard to do whatever we can to put our best foot forward when we do."
Michalek Brothers Racing and the ENERGIZE A/fuel dragster runs a 5.325 second lap at over 271MPH in front of a sold out crowd at the 2018 Night Under Fire. Track owner and ENERGIZE founder, Bill Bader, Jr., with the legendary call on the microphone.
After a routine service, MBR and GBR towed back to the starting line for their final run of the evening to decide the event winner. When the tree flashed green, both dragsters left hard with .950 60′ times but the race soon went in Gutierrez Brothers Racing's favor as J.P. streaked away for the round win with a consistent 5.46 second pass at 261MPH while Corey Michalek faded back and coasted across the finish line after aborting the run due to tire shake.
"Every car is going to have its challenges and show its horns every once in awhile," said co-tuner, Chase Copeland. "You have to keep your head up and keep plugging away and let the scoreboard do the talking. With the group at MBR, it's a "never give up" motto and that's what it takes to be a front runner. The Michaleks have built a team from scratch that I feel can be serious competition for the rest of the class."
With both teams winning one round a piece, MBR's 5.325 second opening lap performance was enough to break the tie and give MBR the win.
"The Night Under Fire was a long, but productive and very fun day," said Kyle. "We made the most out of the opportunity to make test laps and put on a show, but we don't normally make 4 runs and do full service after each run in the same day. We really appreciate the opportunity to get to do this show with the Gutierrez Brothers. We had a great time going back-and-forth with some good natured trash talk both before and during the event. We always have fun racing with the GBR team and have a lot of respect for J.P., Phil, and their entire team."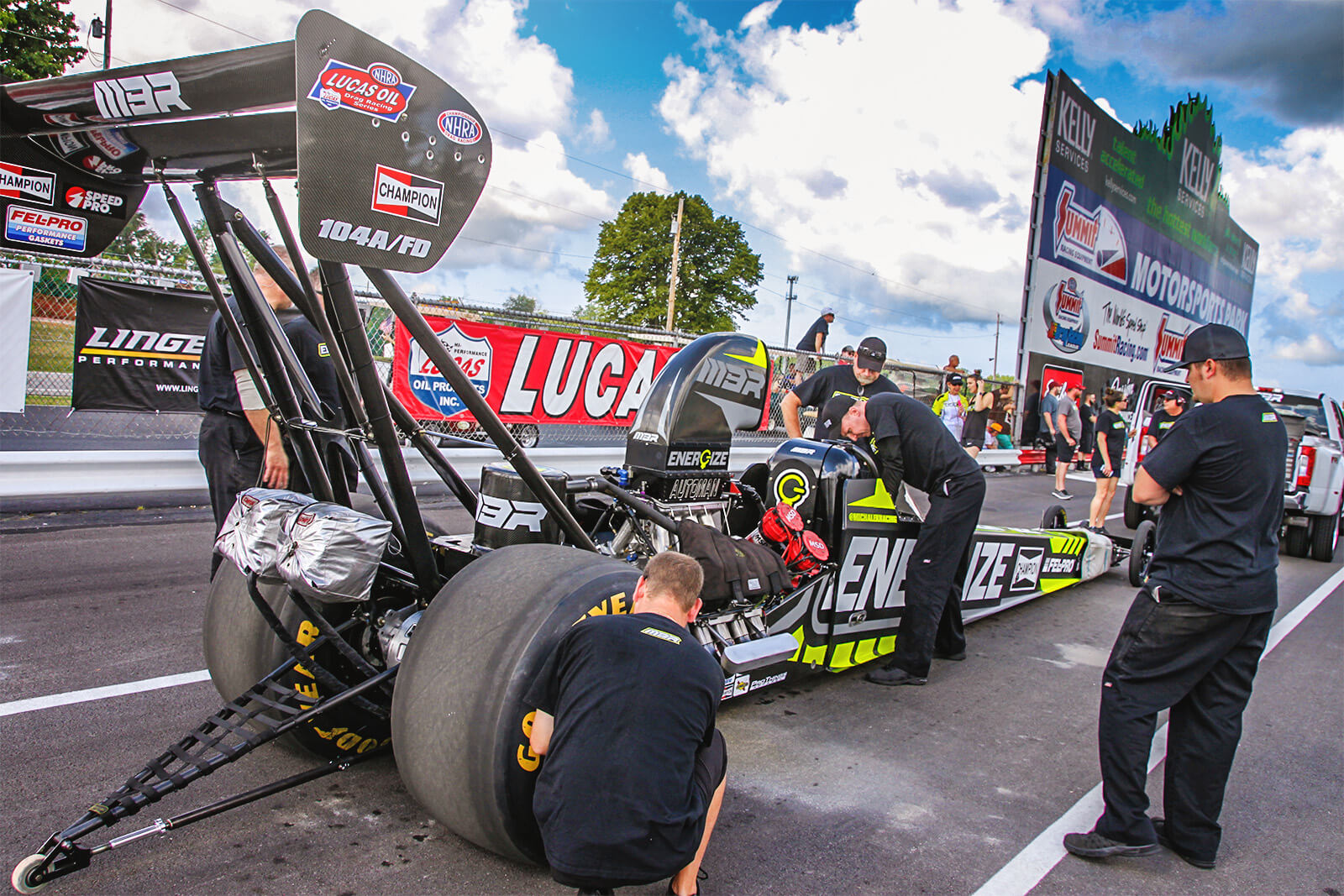 In total, Michalek Brothers Racing made 4 runs over the course of the day in preparation for their final event of the 2018 season, the Dodge NHRA Nationals in Reading, Pennsylvania.
Michalek Brothers Racing now shifts their focus back to NHRA competition with their final event of their year looming just less than 4 weeks away at the Dodge NHRA Nationals in Reading, Pennsylvania.
"The Night Under Fire event was great, and now it's time to move forward and put an exclamation point on our 2018 season with a strong performance in Reading," said Kyle. "I have been thinking about earning on-track redemption since our first round loss at the Norwalk event earlier this summer, and I feel confident going into Reading having recently completed several representative laps. Bill Bader, Jr and his Energize team have a working relationship with the Maple Grove Raceway staff and we look forward to flying the ENERGIZE colors again at this event.
For additional MBR information and updates, please "like" the Michalek Brothers Racing Facebook page, subscribe to MBR's YouTube channel, and follow @MichalekRacing on Twitter and Instagram.