Michalek Brothers Racing and Dreher Motorsports Head to Norwalk Looking to go to Work Over the Holiday Weekend
Corey Michalek zeros in on redemption at Summit Motorsports Park
The Kenan Advantage Group will be MBR's primary sponsor for the 2015 Summit Racing Equipment NHRA Nationals in Norwalk, Ohio.
The National Hot Rod Association (NHRA) rolls into the Buckeye State this weekend for its annual stop in Norwalk, Ohio (GET DIRECTIONS). Michalek Brothers Racing (MBR) and Dreher Motorsports will join forces once again to field an entry in the ultra-competitive Top Alcohol Dragster class at the 9th running of the Summit Racing Equipment NHRA Nationals.
With the drag racing world shifting its attention to northwest Ohio for the holiday weekend, MBR driver Corey Michalek looks ahead to getting back on track after being idle behind the wheel since early March.
"Anxious is probably the most appropriate term," said Corey. "It's been a long 4 months of being out of the driver's seat since Charlotte. As a part time driver running a limited schedule, there is so much emphasis put on every opportunity that you get to stand on the gas, and it's a challenge to get into any type of rhythm with such long gaps in between races. The main objective for me coming into the weekend is to show up mentally in midseason form the way Kyle did in Houston."
Norwalk marks the second consecutive race of the season that MBR will pull up to the starting line with primary sponsorship from the Kenan Advantage Group (KAG). MBR states its goals for the weekend are simple: perform well on track, and just as important, help KAG find qualified applicants to join its team. KAG will have a full staff on site in Nitro Alley to engage and interact with prospective employees. Any current CDL holder or mechanic is encouraged to stop by the KAG booth to learn more about job opportunities and for a shot to win a free iPad mini. Additional details can be found at thekag.com/race.
Michalek Brothers Racing driver Corey Michalek's final qualifying pass at the 2014 Summit Racing Equipment Nationals in Norwalk, Ohio resulted in a 5.445 second lap at 257.73MPH.
With additional backing from Champion Spark Plugs, Fel-Pro, Speed Pro, Sealed Power, and GoPro cameras, MBR and Dreher Motorsports will go toe-to-toe with a field of more than 20 of the country's best Top Alcohol Dragster teams for the third straight year. Focused on the weekend, Corey reflects on his brief 3-race career piloting a 3,500 horsepower A/fuel dragster.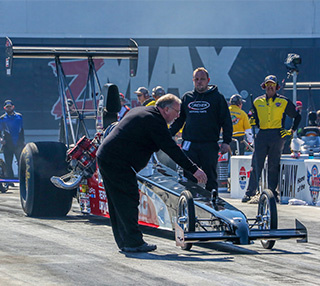 Michalek Brothers Racing will once again team up with Randy and Jared Dreher of Dreher Motorsports to field an entry at the 9th Annual Summit Racing Equipment NHRA Nationals. (Photo credit: David Smith)
"Since the 2014 Four-Wide Nationals in Charlotte, it's been a humbling experience for me behind the wheel. We have been fortunate enough to be able to come out and make a bunch of A-to-B runs and get the car qualified into a couple of stacked fields, which is a victory in itself, but we've run into a string of really tough luck going into eliminations the past two times that I've driven," said Corey. "I know the Drehers are ready to throw down this weekend and I've been training since the Monday after Charlotte to be fully prepared for any situation that we may face on track so we can be contenders come Sunday. I'm ready to drop the visor and go to work."
The team kicks off its weekend this Friday with 2 qualifying runs at 12:00PM and 3:00PM. Action resumes on Saturday afternoon when the KAG A/fuel dragster makes its third and final qualifying pass at 12:00PM, followed shortly after by the first round of eliminations at 3:00PM. The 8 remaining Top Alcohol Dragsters will then square off for the final 3 rounds of eliminations with a Wally on the line Sunday at 12:15PM, 2:25PM, and 3:40PM. Reserved and general admission tickets are on sale and can be purchased here (GET TICKETS).
"It's 4th of July weekend at the Bader's house and we can't wait to get the KAG A/fuel dragster on track in front of a packed house at Summit Motorsports Park," said Corey. "This is MBR's home track and we count down the days each year until we get the opportunity to come back. Fireworks, $1/lb ice cream, and nitro…it doesn't get any better than this!"
For additional MBR information and updates, please "like" the Michalek Brothers Racing Facebook page, subscribe to MBR's YouTube channel, and follow @MichalekRacing on Twitter and Instagram.