Michalek Brothers Racing and Simpson Performance Products Begin Partnership in 2016
Simpson becomes the official safety equipment provider for MBR
Michalek Brothers Racing (MBR) is excited to announce a newly formed partnership with Simpson Performance Products for the 2016 racing season. MBR and Simpson will embark on their first year of official partnership in the NHRA's Top Alcohol Dragster category within the Lucas Oil Drag Racing Series.
"It is very exciting and an honor to be a part of the Simpson Performance Products team," said Kyle. "Racing at 270+ MPH is serious business; however, we have peace of mind when we get into our car knowing we are protected by the best safety products available. Competing safely is our top priority; we have and will continue to invest in our safety by utilizing Simpson Performance Products."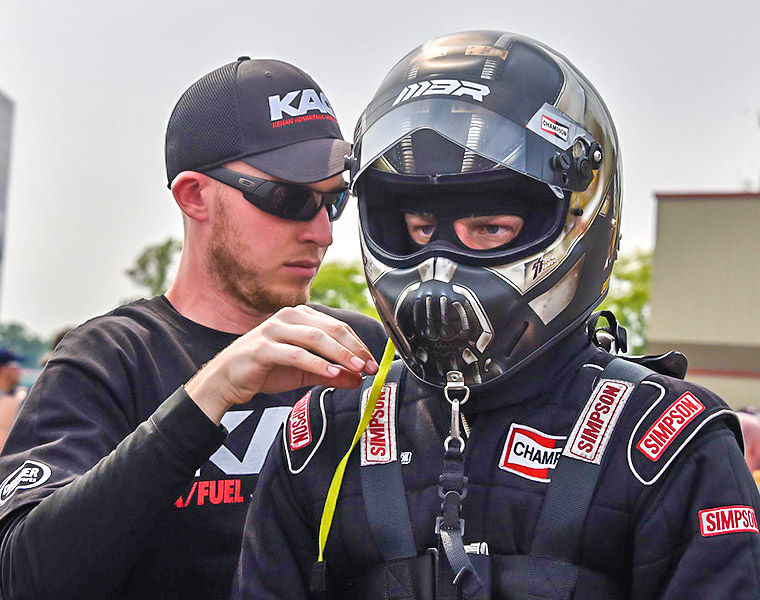 Since becoming licensed NHRA Top Alcohol Dragster pilots, Michalek Brothers Racing has 1 win, 2 runner-ups, and 1 semi-final finish in only 8 appearances. (Photo credit: David Smith)
Michalek Brothers Racing, along with some of the world's most respected racers and teams including John Force Racing, Tony Stewart, and Carl Edwards, rely on Simpson Performance Products each time they take the track. Although many of Simpson's products have evolved over time, the concept remains the same: containment inside a safety cell is vital in any crash. Simpson Performance Products includes the equipment found in current Sprint Cup, IRL, Formula One and Drag Racing vehicles. When racers sit behind the wheel in Simpson's Envelope of Safety, they give themselves the advantage of 54 years of safety innovation and experience.
"It's an honor to be a part of the Simpson Performance Products family. Kyle and I rely on their products every time we strap into a racecar and I can't wait to represent their proven and trusted brand both on and off the track. The 2016 racing season is shaping up to be our biggest, and most challenging year to date. We have high expectations for ourselves and we look forward to having Simpson Performance Products along for the ride!"
To learn more about Simpson Performance Products, visit simpsonraceproducts.com for more information and to purchase products. Simpson Performance Products are for racers "driven by safety." Stay safe at the track with Simpson Racing helmets, shoes, suits, gloves, and more.
For additional MBR information and updates, please "like" the Michalek Brothers Racing Facebook page, subscribe to MBR's YouTube channel, and follow @MichalekRacing on Twitter and Instagram.