Michalek Brothers Racing & Federal-Mogul Motorparts' Champion Spark Plugs Brand Renew Partnership for Fourth Consecutive Year
Vehicle Component Manufacturers Fel-Pro, Sealed Power, and Speed-Pro Brands also continue their relationship with MBR
Champion Spark Plugs now offers fans the opportunity to wear what the drivers wear buy purchasing official gear on their all new online store.
Michalek Brothers Racing (MBR) is excited to announce a continued partnership with Federal-Mogul Motorparts' (NASDAQ: FDML) Champion® Spark Plugs brand for the 2015 race season. Kyle and Corey Michalek won the brand's inaugural "Search for a Champion" contest in 2012 and have since carried the iconic Champion bowtie branding across the country on the sides of a 270MPH A/fuel dragster. In 2015, MBR and four Federal-Mogul Motorparts brands will once again collaborate to compete within the NHRA's Lucas Oil Drag Racing Series.
The "Performance Driven" motto of Champion Spark Plugs holds true both on and off the track as the brand continues to lead the way with first-class digital initiatives for aspiring racers and everyday gear heads. Champion's industry-leading Search for a Champion contest is back for its fourth straight year to award $125,000 in racing sponsorships, and to add fifteen new members to an already stacked #TeamChampion roster. The King of the Road contest's third edition kicks off in the Spring of 2015 and Champion will award $10,000 in prizes to the best street-legal rides across the country. Fans can now also wear what the drivers wear by purchasing official Champion gear on the brand's all new online store.
"We are very proud to continue our relationship with Champion, Fel-Pro, Speed-Pro, and Sealed Power as we head into year four of our successful partnership," said Kyle. "Knowing we have the backing and support of Federal Mogul and #TeamChampion both on and off the track gives us a lot of confidence."
The 2014 racing season was "Performance Driven" from start to finish with MBR spreading the word about the brand's Search for a Champion and King of the Road initiatives in front of crowds exceeding 45,000 fans per day at two NHRA Mello Yello Series national events and the premiere Lucas Oil Drag Racing Series race in the country. The team also raced the Champion Spark Plugs dragster to an event win in front of a national audience on ESPN2 at the 5th Annual NHRA Four-Wide Nationals in Charlotte, North Carolina.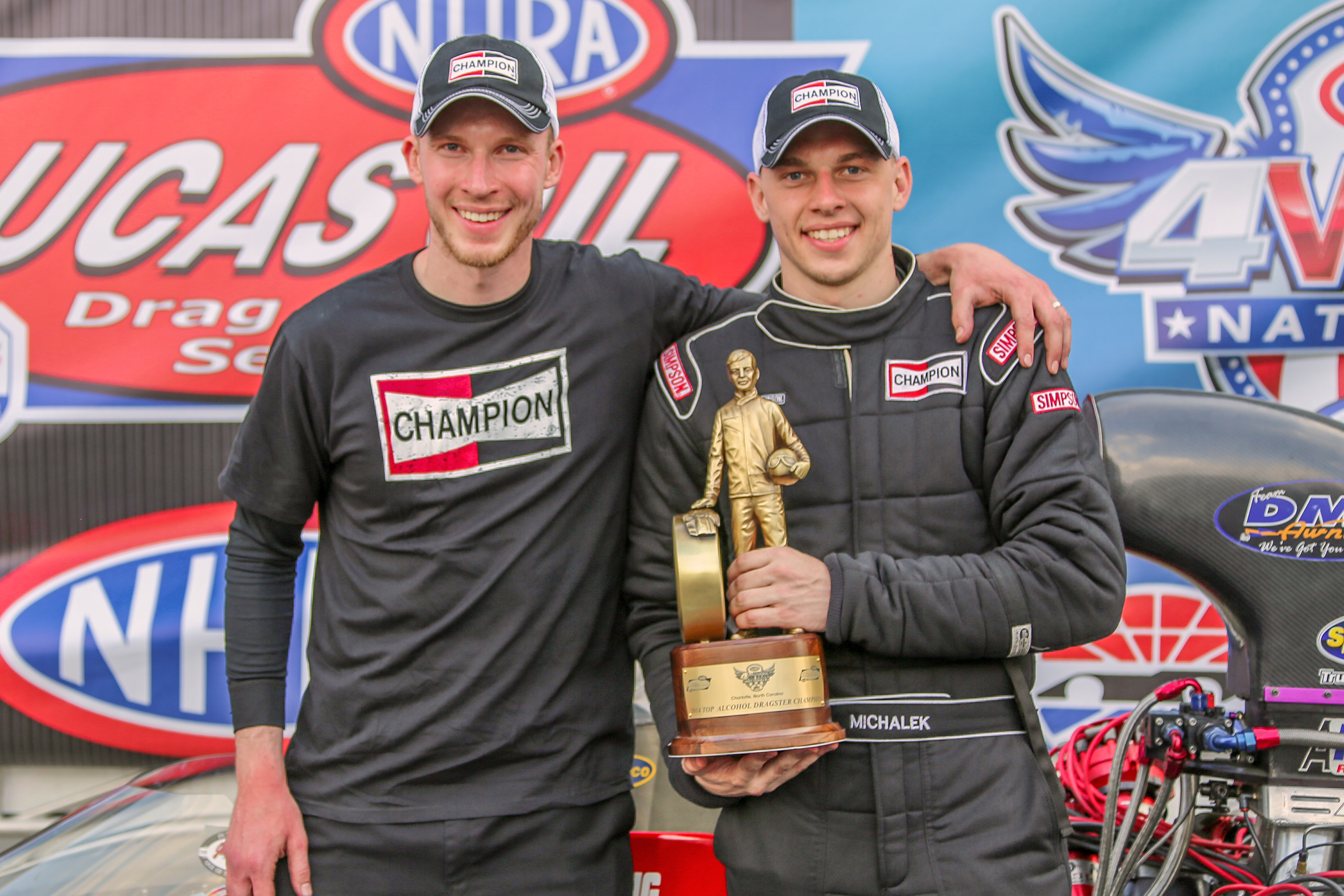 Kyle and Corey Michalek teamed up with Dreher Motorsports to win the 2014 NHRA Four-Wide Nationals in Charlotte, North Carolina. (Photo credit: David Smith)
#TeamChampion driver Kyle Michalek rockets to 5.46 second pass at 255mph in front of more than 45,000 fans this in Norwalk, Ohio!
"It was so gratifying to be able to take the Champion Spark Plugs paint scheme all the way to the winner's circle in Charlotte," said Corey. "The victory marked one of the biggest milestones in our continuously prospering relationship with the brand. It was so great being able to promote the Champion, Fel-Pro, Speed-Pro, and Sealed Power brands and to recognize all the support they have given us over the past 3 years on a national stage."
With the 2014 season in the rearview mirror, Michalek Brothers Racing and Champion Spark Plugs have their sights set on another strong campaign in 2015. MBR is currently finalizing plans for events in both the NHRA Mello Yello Series and Lucas Oil Drag Racing Series tours. MBR and Champion will continue to capitalize on the success of the duo's social media engagements and at-track promotions.
To learn more about Champion Spark Plugs and other "Performance Driven™" Champion products, visit ChampionSparkPlugs.com for more information. Federal-Mogul Motorparts is a leading global vehicle components manufacturer offering a comprehensive portfolio of quality products, trusted brands and creative solutions to the automotive aftermarket.
For additional MBR information and updates, please "like" the Michalek Brothers Racing Facebook page, subscribe to MBR's YouTube channel, and follow @MichalekRacing on Twitter and Instagram.