For Michalek Brothers Racing, Charlotte is a Long Time Coming
ZMax Dragway marks MBR's season opener for second consecutive year
Just under one year ago, Corey Michalek entered his debut race in the NHRA Top Alcohol Dragster class, the 2014 NHRA Four-Wide Nationals, behind the wheel of a 3,500 horsepower A/fuel dragster with wide-eyes and a great appreciation for having the opportunity to compete against some of the best Top Alcohol Dragster drivers on the planet. Three days later, a dream was realized when MBR and Dreher Motorsports crossed the finish line at nearly 270mph on Sunday afternoon to take home the Wally trophy in Corey's first ever start.
"We went from having mechanical issues that wiped out both runs on Friday, to getting in the show under massive pressure with a career best lap during Q3 on Saturday," said Corey. "From there, the Drehers had the car dialed in running close to low E.T. each round of eliminations and we rode a huge wave of momentum all the way through the finals on Sunday. To this day, the memories from that weekend still seem surreal."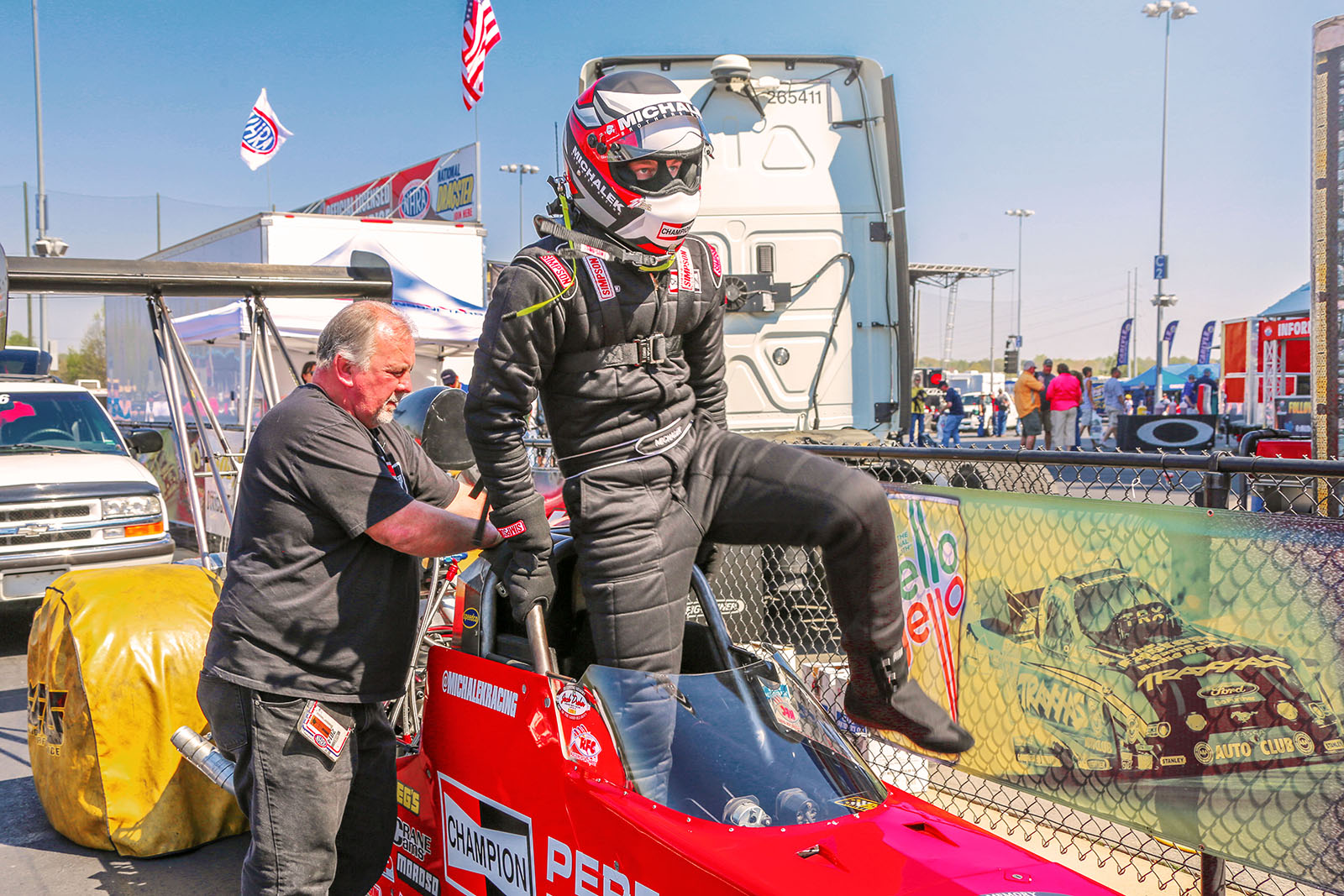 Corey Michalek climbs into the Champion Spark Plugs A/fuel dragster with assistance from car owner Randy Dreher prior to the final round of qualifying at the 2014 NHRA Four Wide Nationals. (Photo credit: David Smith)
Fast-forward to less than a week before the 2015 installment of the NHRA's 6th annual spring race in the Tar Heel State and the tone gets a lot more serious. While last year's Charlotte victory remains sweet, Michalek continues to hold on to what could have been in his second race behind the wheel, this time at his home track in Norwalk, Ohio, where the team bowed out as the #11 qualifiers without contesting the first round of eliminations due to parts attrition.
"

My mentality has always been that whenever you don't win a race, you didn't complete your task. I have a sour taste in my mouth from Norwalk and I feel like I left something on the table as a driver, personally.

"
"On the other side of the spectrum, I have extremely high goals for myself and the team each time we pull into the track. Going back to my first experiences racing with Mark Thomas, I saw firsthand what it takes to be elite in this sport. My mentality has always been that whenever you don't win a race, you didn't complete your task. I have a sour taste in my mouth from Norwalk and I feel like I left something on the table as a driver, personally. I've spent the last 8 months prepping so that I have zero doubts when I get strapped into the car this weekend that I've done everything that I could do to be prepared."
Validating last year's inaugural performance is something that Corey has on his mind after attempting only 9 runs in all of 2014.
"Shortly after the Charlotte race, Brandon Booher said to me, 'Welcome to the champagne room of drag racing…now anything aside from a win is unacceptable.' Coming from someone who fields one of the premier cars in the class and someone who has been there before, I'll never forget that because it validated what I had always believed was the only way that you should approach a race. It's blunt, but it's a mindset you have to have in order to be the best at what you do. I respect how difficult it is to have success at any level of this sport, but at the same time, I only get the chance to race once or twice a year so I strive to be a force every time I get an opportunity to do so."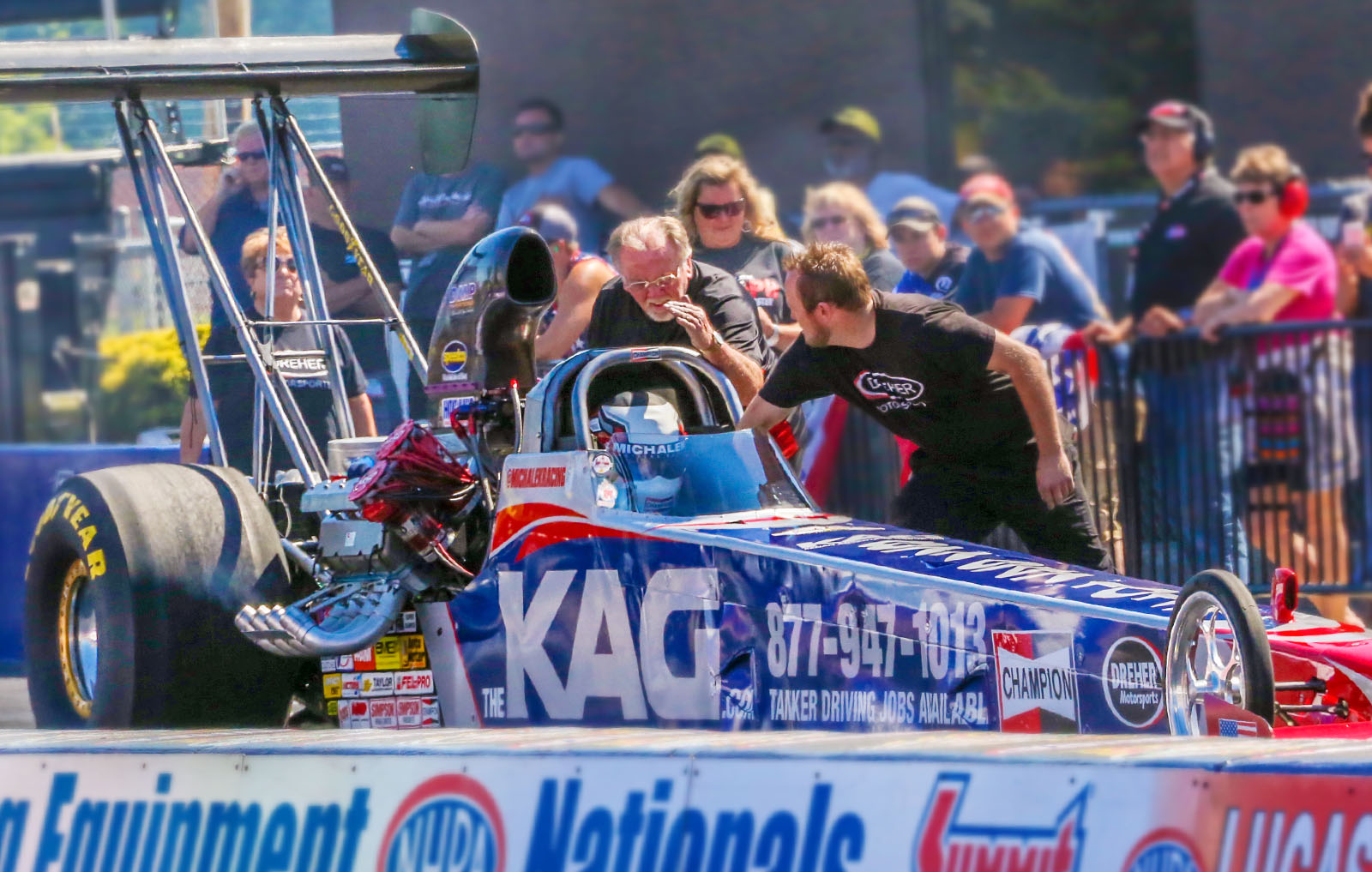 Michalek Brothers Racing will again partner with Randy and Jared Dreher of Dreher Motorsports to field a car in Charlotte. (Photo credit: David Smith)
MBR rolls into Bruton Smith's recently repaved "Bellagio of Dragstrips" in Charlotte, NC (get directions) for the 2015 NHRA Four-Wide Nationals (get tickets), the first of three scheduled races in 2015. Long-time partners, Kenan Advantage Group, Champion Spark Plugs, Speed-Pro, Fel-Pro, and Sealed Power, and newcomer, GoPro cameras, will adorn the side of the Dreher's injected-nitro machine.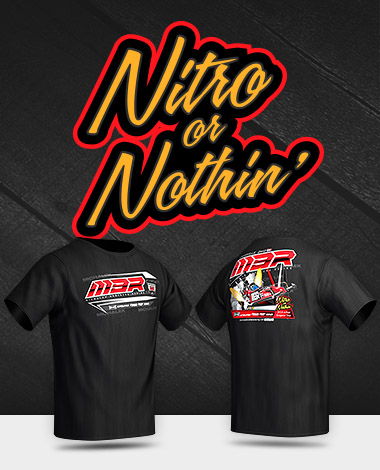 Get the official 2015 Michalek Brother Racing team shirt to support the team as they take the track this weekend and all season long. Shop now!
"We are very fortunate to be able to continue competing at this level and we couldn't do it without our partners Champion and KAG who stepped up as our primary sponsors for 2015," said Kyle. "We have a lot of exciting on and off-track promotions planned this year, and we can't wait to get started in Charlotte!"
MBR's return to the track is made possible due to their partnership with Dreher Motorsports, now beginning its third year. Under the guidance of veteran and standout Top Alcohol racers, Randy and Jared Dreher, Corey looks forward to what the two teams can do together in 2015.
"This will be our third consecutive year partnering with Dreher Motorsports and they are the driving force behind the success that we have had in our short time in the class," said Corey. "Randy and Jared have worked for years to refine their tune-up and they field one of the most formidable cars on the property each time they show up to an event. If the car is on and we do our job behind the wheel, we are very confident that we'll be able to continue to contend each time we pull up to the line."
MBR kicks of their 2015 season this Friday with two qualifying runs at 11:45AM and 3:00PM. The team returns for their third and final qualifying pass at 11:45AM on Saturday with the first round of eliminations following soon after at 3:00PM. The eight remaining Top Alcohol Dragsters will then battle it out for the Wally with the final three rounds of eliminations taking place on Sunday at 11:45AM, 2:00PM, and 3:45PM. Reserved and general admission tickets are on sale and can be purchased here (get tickets).
For additional MBR information and updates, please "like" the Michalek Brothers Racing Facebook page, subscribe to MBR's YouTube channel, and follow @MichalekRacing on Twitter and Instagram.