Michalek Brothers Racing Moving up in 2013
To compete in a 270 MPH A/fuel dragster in the NHRA Lucas Oil Drag Racing Series
Michalek Brothers Racing is excited to announce that Kyle and Corey Michalek will be taking the next step in their racing careers in 2013 by moving up to the NHRA's premiere sportsman class and becoming licensed A/fuel dragster drivers. The A/fuel dragster class is the NHRA's fastest non-professional racing class with cars covering the quarter mile from a standstill in less than 5.4 seconds at speeds near 270 MPH.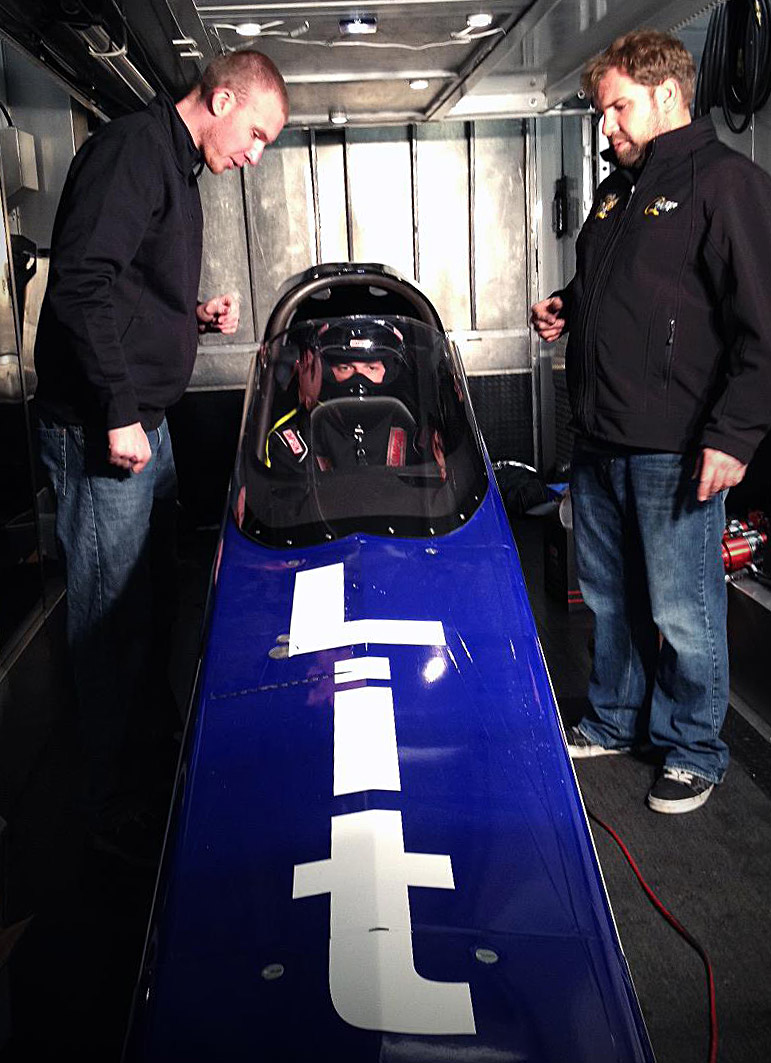 Michalek Brothers Racing driver Kyle Michalek and car owner Anthony Dicero walk Corey through the driving procedure of a 3,500 horsepower A/fuel dragster.
In order for this opportunity to be possible, Michalek Brothers Racing will team up with Indianapolis based car owner Anthony Dicero to make their debut.
"We are very excited that Anthony has given us the opportunity to advance our racing careers to the next level," Kyle said. "Anthony has recently invested in lots of new equipment with great performance potential and we hope to establish a mutually successful partnership."
Prior to mashing the throttle for the first time in an A/fuel dragster, Kyle and Corey will both complete the NHRA's licensing upgrade process. The team is currently planning to make the required licensing runs in Gainesville, Florida or Valdosta, Georgia during late winter or early spring. Upon completion of the licensing process, Michalek Brothers Racing will release its plans for competition in the 2013 NHRA Lucas Oil Drag Racing Series.
"This is a really big, but extremely exciting step up for us in our racing careers," Corey said. "As we've made clear in the past, our ultimate goal is to one day get behind the wheel of a Top Fuel car and this is by far the best preparation that we can get. We're both chomping at the bit to get the licensing process underway."
Brothers, Kyle (27) and Corey (24), were the winners of the inaugural Champion® Search for a Champion contest in 2012 and they have each spent the past five years gaining seat time campaigning their Super Comp dragster. The two have also worked on Pat Dakin's NHRA Top Fuel dragster the past two years and previously with Mark Thomas's IHRA Alcohol funny car for a combined total of seven years.
For additional MBR information and updates, please "like" the Michalek Brothers Racing Facebook page, subscribe to MBR's YouTube channel, and follow @MichalekRacing on Twitter and Instagram.