Michalek Brothers Racing Staring Down Toughest Test Yet in Norwalk
Corey Michalek to make Summit Motorsports Park competition debut amid stacked field
Michalek Brothers Racing driver Corey Michalek climbs back behind the wheel of the Kenan Advantage A/fuel dragster prepared by Dreher Motorsports for the second time in 2014.
It has only been 44 days since Michalek Brothers Racing pulled off the Summit Motorsports Park property at the conclusion of the 8th annual Mickey Mart Rewards Cavalcade of Stars race, but for brothers and teammates Kyle and Corey Michalek, it feels more like 44 years. The wait, however, comes to an end this weekend as the team, partnered with Dreher Motorsports, returns to Norwalk, Ohio alongside 24 of the best Top Alcohol Dragsters in the country to vie for the coveted Wally that is up for grabs at the 8th annual Summit Racing Equipment NHRA Nationals.
MBR returns to Norwalk (Get Directions) for the second time in 2014, this time with Corey getting behind the wheel, in the midst of an already eventful campaign. The team started the 2014 racing season strong at the 5th annual NHRA 4-Wide Nationals in Charlotte, North Carolina. With Randy and Jared Dreher making the tuneup calls, the Champion Spark Plugs/Dreher Motorsports A/fuel dragster took home the wally in Corey's national event debut.
"Charlotte was a dream weekend for us; there's no getting around that," said Corey. "The Drehers worked their tails off to provide us with a race car that was capable of going the distance and we were fortunate to catch a few breaks along the way."
The younger Michalek, looking ahead to his second race in NHRA Top Alcohol Dragster competition, was quick to halt the trip down memory lane.
"But Charlotte is in the past now and what we did at that race has zero bearing on what's going to happen this weekend, as the regional race proved. My goal for this race is first and foremost to qualify. I know that sounds very underwhelming after winning in Charlotte, but with the 25 cars that are going to be in attendance, this is going to be one of the toughest fields to qualify for all year. We want to have one of the 16 quickest cars come 1:00 on Saturday and then we'll re-shift our approach from there."
"On top of that, I really want to make as many runs as possible just to develop into a better driver. At this point I would say that I'm still going for a ride, trying to play catch up each time down the track rather than being ahead of the car and driving it. I cringe re-watching some of the Charlotte runs because I know I need to be so much better at so many aspects of the driving process."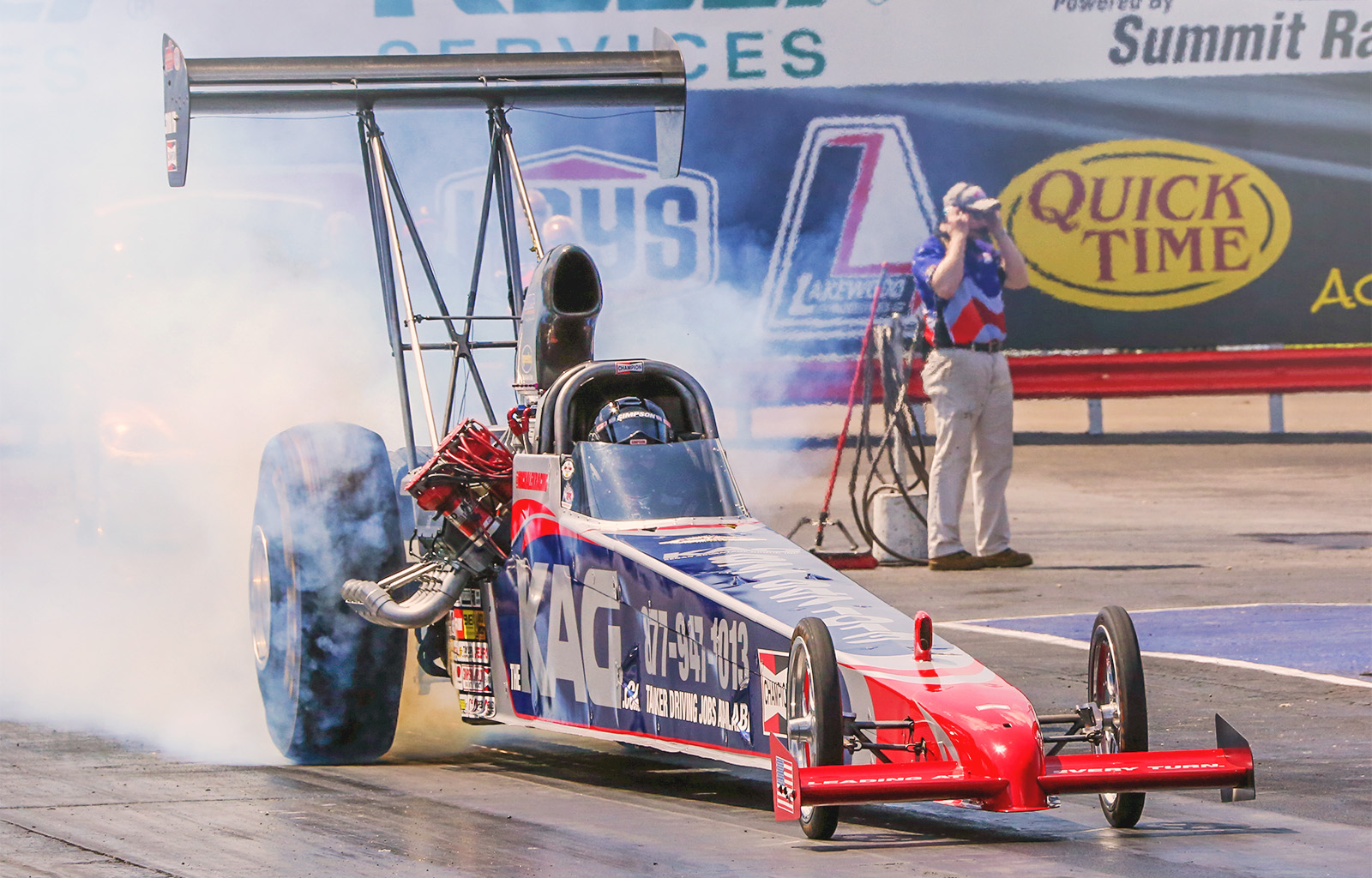 Summit Motorsport Park racing fans will see the Kenan Advantage Group A/fuel dragster on track for the second time in 2014. (Photo credit: David Smith)
Corey Michalek will climb back into the Dreher Motorsports A/fuel dragster for the first time since his debut race this past April in Charlotte, North Carolina.
Michalek Brothers Racing will once again rocket down the Norwalk quarter-mile carrying primary sponsorship from the Kenan Advantage Group (KAG) to actively recruit new mechanics and CDL truck drivers. More information about great nationwide job opportunities with the KAG team can be found by browsing and applying for available positions here. Longtime MBR supporters, Champion Spark Plugs, Sealed Power, Speed Pro, and Fel-Pro, will also be featured on the Dreher Motorsports A/fueler as Corey makes his maiden voyage down the track at which he attended his first drag race.
"Even though I live in New York now, I still consider Summit Motorsports Park to be my home track. It's the first drag strip that I ever visited as a fan and I've been there for more races than any other facility on tour, but this weekend will be the first time that I've driven there. I'm really excited to finally have the opportunity to compete in front of our friends and family at the same place where it all began for me."
Fans attending the event will be treated to non-stop action all weekend long as "America's Racetrack" celebrates the baddest race cars on the planet with $1/lb ice cream and the Bader family's signature fireworks show. MBR hits the track twice on Friday to kick off the weekend with runs at 12:00PM and 3:00PM. The team returns for their third and final qualifying pass at 12:00PM on Saturday with the first round of eliminations following soon after at 3:00PM. The eight remaining Top Alcohol Dragsters will then battle it out for the Wally with the final three rounds of eliminations taking place on Sunday at 12:15PM, 2:25PM, and 3:40PM. Reserved and general admission tickets are on sale and can be purchased here.
"It's well known that whenever you come to Norwalk it's going to be a great time," said Kyle. "This coming weekend will be extra special with the 4th of July celebration. What is more patriotic than side by side racing at over 270 MPH, and nitro burning engines pushing out over 3,500 horsepower; all capped off with a Bader family fireworks show?! We're looking forward to running hard and having a great time!"
For additional MBR information and updates, please "like" the Michalek Brothers Racing Facebook page, subscribe to MBR's YouTube channel, and follow @MichalekRacing on Twitter and Instagram.