Michalek Brothers Racing Storms into 2014
Corey Michalek eyes rookie debut in 270MPH A/fuel dragster class
Corey Michalek made his maiden voyage down the quarter-mile behind the wheel of an A/fuel dragster at Lucas Oil Raceway at Indianapolis during the NHRA's pre-U.S. Nationals test session.
Michalek Brothers Racing's (MBR) 2013 season behind the wheel of the Dreher Motorsports A/fuel dragster, albeit brief, was one to remember. Coming out of nowhere, then rookie driver Kyle Michalek qualified #2 and finished runner-up at the team's very first NHRA Lucas Oil Drag Racing Series event in an A/fuel dragster; the NHRA's fastest form of semi-professional competition. Fast forward to July and Kyle went on to make a splash in MBR's NHRA national event debut by successfully qualifying for the field of 16 and gaining the team's first national exposure on the ESPN2 race broadcast. The season wrapped up with test sessions in August and October at Lucas Oil Raceway at Indianapolis when Corey Michalek upgraded his competition license to A/fuel, and closed out 2013 with a 5.55 second blast at over 261mph to set himself up for a 2014 debut.
MBR kicks off its 2014 campaign in two short weeks at Bruton Smith's "Bellagio of Dragstrips," ZMAX Dragway, in Charlotte, North Carolina at the 5th Annual NHRA Four-Wide Nationals April 11-13. This event marks the rookie competition debut for MBR driver Corey Michalek behind the wheel of a 270MPH A/fuel dragster. Just over one month later MBR will head back to their home track, Summit Motorsports Park, in Norwalk, Ohio where Kyle Michalek hopes to avenge his 2013 runner-up finish at the 8th Annual Mickey Mart Rewards Cavalcade of Stars May 16-18. Corey will then close out the third race on MBR's 2014 tour celebrating the July 4th weekend in style, once again in Norwalk, at the 8th Annual Summit Racing Equipment NHRA Nationals July 4-6.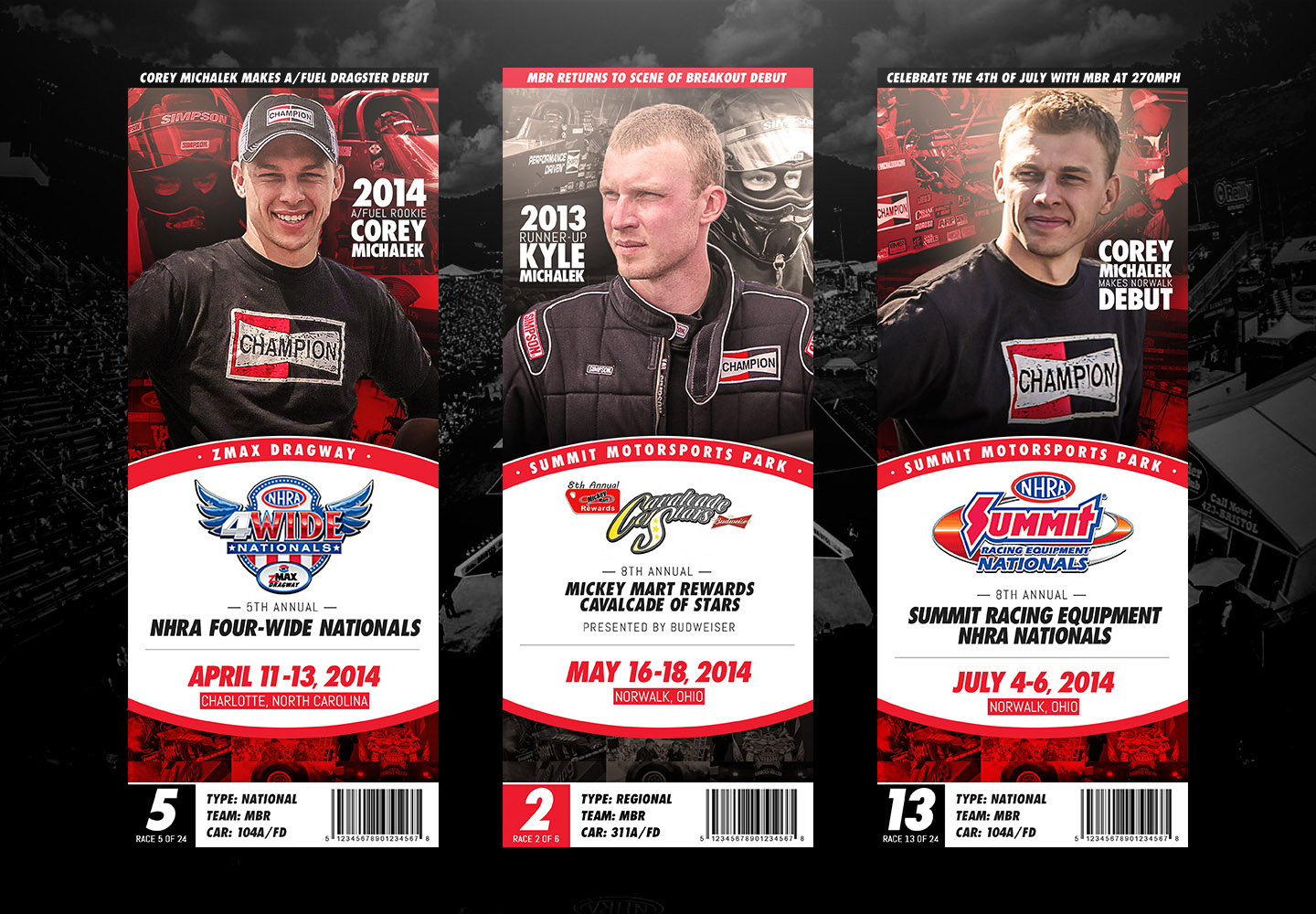 Michalek Brothers Racing looks forward to making their competition debut at the famed ZMax Dragway in Charlotte, North Carolina as well as defending their home turf at Summit Motorsports Park in Norwalk, Ohio.
After observing one season of competition from outside of the cockpit, Corey looks forward to getting his shot at the best top alcohol dragster drivers in the world.
"Last season was one that we'll never forget. Kyle did a spectacular job making the transition from Super Comp to the A/fuel dragster class, and I learned so much from observing him as well as working with Randy and Jared Dreher, our partners from Dreher Motorsports," said Corey. "I enjoyed helping out on the car and soaking up as much knowledge as I could, but my true desire has always been to be competing behind the wheel."
"

The first race of 2014 that we're running in Charlotte is the biggest moment in my racing career to date, and I have high expectations for myself. I can't wait to see what's ahead now that I've completed my license upgrade.

"
Kyle and Corey will once again be returning to the track with assistance from second-year partners, Dreher Motorsports. The Dreher's wealth of knowledge in all facets of preparing and handling the 3,500 horsepower dragster was vital in MBR's success last year, and Kyle looks forward to building upon what has already been a wildly successful partnership.
"Randy and Jared have been great mentors, and that provides confidence knowing they are willing to help Corey and me develop into A/fuel dragster competitors. We appreciate their support, and are greatful for the opportunity to work with their team," said Kyle.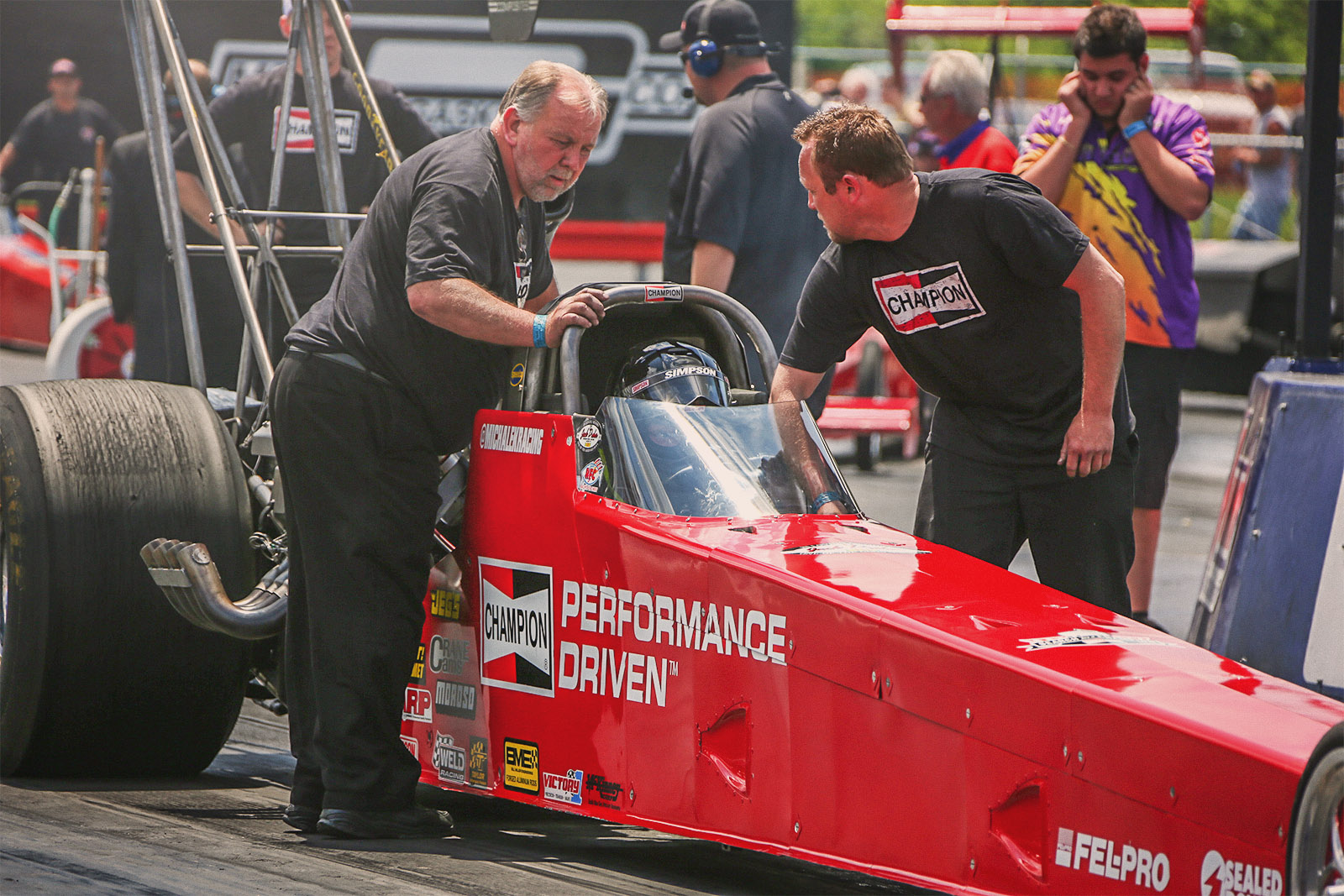 Michalek Brothers Racing will again partner with Randy and Jared Dreher of Dreher Motorsports to field an A/fuel dragster entry within the NHRA Lucas Oil Drag Racing Series. (Photo credit: David Smith)
MBR will continue their successful partnership with Federal Mogul brands in 2014 with support from Champion, Fel-Pro, Sealed Power, and Speed-Pro. Federal-Mogul is a leading global vehicle components manufacturer offering a comprehensive portfolio of quality products, trusted brands and creative solutions to the automotive aftermarket. To learn more about Champion Spark Plugs and other "Performance Driven™" Champion products, visit AlwaysAChampion.com for more information.
For additional MBR information and updates, please "like" the Michalek Brothers Racing Facebook page, subscribe to MBR's YouTube channel, and follow @MichalekRacing on Twitter and Instagram.