Michalek Brothers Racing Wins 45th Anniversary Night Under Fire
Second win in four events in 2022
Michalek Brothers Racing collected their third win at Summit Motorsports Park's prestigious Night Under Fire event.
Michalek Brothers Racing (MBR) captured their third win at Summit Motorsports Park's famed Night Under Fire event by running a 5.391 second pass at 270MPH in the final round to defeat Mike Hepp's 5.663 second 247MPH effort. MBR has now won the Top Alcohol Dragster title during the 2018, 2019, and 2022 editions of the event.
"Night Under Fire is the best one day of racing all year, and we had a great day on Saturday," said Kyle. "We can't thank Bill Bader, Jr. and the team at Summit Motorsports Park enough for making this experience so special. We have so many great memories at this track and event, and this weekend just adds to that list. We plan to build upon this momentum to close out our 2022 season strong, and look forward to getting after it at our last two NHRA national events of the year!"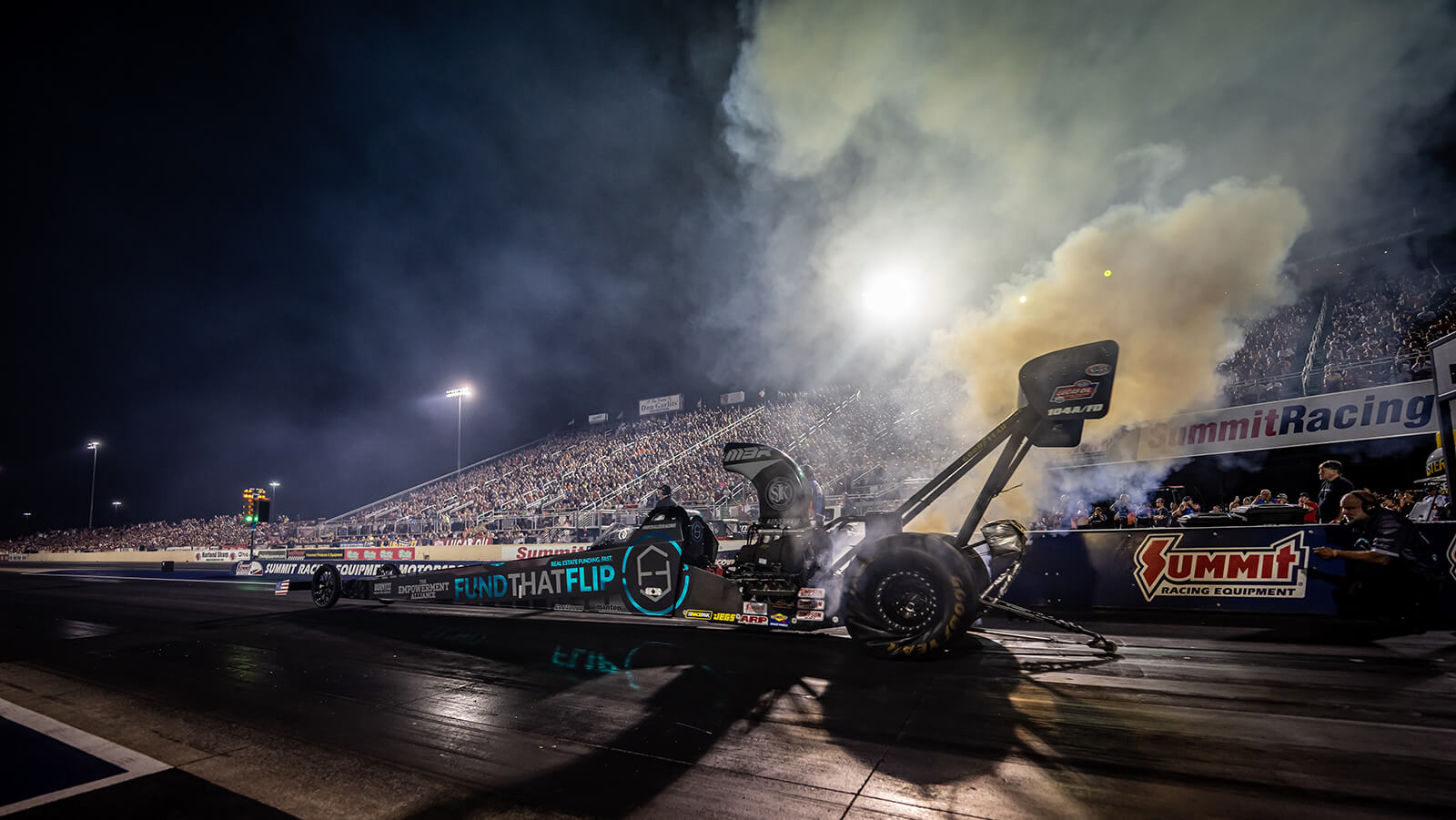 Michalek Brothers Racing ran 5.391 at 270MPH to win the 45th annual Cornwell Quality Tools Night Under Fire. (Photo: Krista Zivcic)
With this spectacular event in the rearview mirror, Michalek Brothers Racing has closed out their 3-race Ohio stretch and the team is now preparing for their next event over Labor Day Weekend in Indianapolis, Indiana at the NHRA's crown jewel event, the NHRA U.S. Nationals.
"Night Under Fire is one of those events that you just want to bask in for as long as possible because the whole thing is just so special from start to finish," said Corey. "There is absolutely nothing like coming around the corner to the starting line and seeing a crowd of over 40,000 passionate fans waiting to see cars rocket down the track. It's surreal to think that we have now had the opportunity to participate in this event on 4 separate occasions and to have been fortunate enough to have won 3 of them. The fact that Fund That Flip and SJK Machine had their entire companies there to witness the team pull off the victory is just incredible. Very, very grateful to have had this opportunity."
"With that said, there's a tremendous amount of work left to be done to close out the year. We've been racing in the comforts of our home state since returning from Charlotte at the beginning of May. We're going back out on the road for our final two races of the year and they're both huge measuring stick races for us. We're going to get everyone's best shot in Indy in what will most likely be the largest field of cars of the year, and then we're going to follow it up with the longest trip of our careers as car owners against an unfamiliar crop of opponents down in Dallas, Texas. We're about to learn a lot about ourselves, and I'm betting on MBR to rise to the challenge."
For additional MBR information and updates, please "like" the Michalek Brothers Racing Facebook page, subscribe to MBR's YouTube channel, and follow @MichalekRacing on Twitter and Instagram.