Indianapolis Marks the Start of a New Era for Michalek Brothers Racing
Team returns to competition for first time since 2015
Just over 2 years ago MBR rolled a new car into an empty shop. Since that time, there has been more frustration than success, but one week from today MBR will finally put the car on the track. The countdown to Indianapolis is officially on.
2 years, 1 month, and 3 days. A timeframe that continues to grow with each sunrise, but one worth noting as the NHRA Lucas Oil Drag Racing Series returns to Indiana for the second time in 2017. It's been that long since Michalek Brothers Racing (MBR) last pulled off the track in Norwalk, OH with a runner-up finish at Summit Motorsports Park's 2015 national event. While it's hard to put into perspective how much has changed since that day, MBR's hunger for competing at the NHRA's highest levels of racing remains steadfast.
At long last, the drought comes to an end this weekend in Indianapolis (get directions).
MBR's 2017 debut ushers in a new challenge as the team pulls through the gates of Lucas Oil Raceway this week for the first time as owners of a 4,500 horsepower NHRA A/fuel dragster. Having spent the past 2 years preparing for this moment, team co-owner Kyle Michalek looks forward to putting the MBR entry on the track for the first time.
"It's about damn time," said Kyle. "We have dedicated a significant amount of time and money to this effort, and even though it has taken longer than we would have liked and cost way more than expected, we are super excited to finally get to the track and make some noise. We are also looking forward to teaming up with Chase and Clay Copeland to help us get our operation up and running. Their experience and on-track success speaks for itself and having a team of guys that have been in our shoes before helps us feel more confident navigating the challenges of getting our operation up to speed. Cory Cox will also be joining us to help provide crew support and round out our team. As usual, our family has been super supportive of us throughout this process, and we look forward to spending time at the track with the whole gang as we start our new journey as car owners."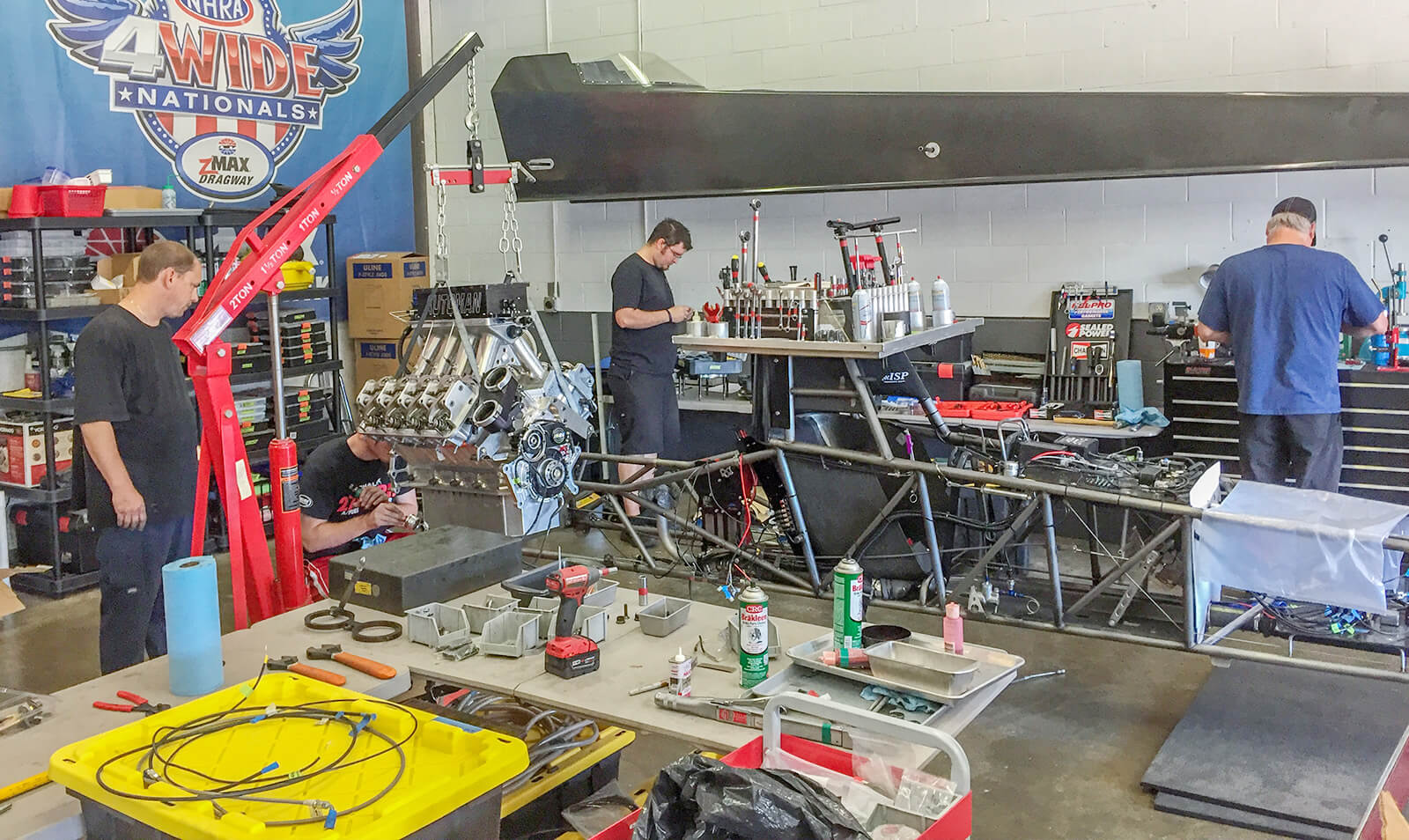 Michalek Brothers Racing returns to the track with a new car and crew help from Clay and Chase Copeland of Copeland Racecars, along with crew member Cory Cox.
MBR is no stranger to the famed Indianapolis quarter-mile as both Kyle and Corey earned their Top Alcohol Dragster licenses at the track where they will now debut their new car. While the majority of the teams in competition will look to use this race as a way to prepare for the upcoming NHRA U.S. Nationals and to make a final charge at season championships, MBR will pull into the gates looking to make the maiden runs with their new car.
"It's been over 2 years since the last time I stood on the gas in one of these things," said Corey, who will be behind the wheel this weekend. "It's a new car, a different crew, and I have increased responsibilities that I didn't previously have while in the car. I expect to learn a lot this weekend about where I'm at as a driver, and I anticipate it being a significant challenge after having been idle for this long. There is zero room for error by anyone on the team if we want to expedite the process of getting the car up to speed to find a way to compete in eliminations this weekend."
MBR will be campaigning a 4,500 horsepower A/fuel dragster in the NHRA Lucas Oil Drag Racing Series.
"Being fully transparent, we don't know what the car is going to do this weekend. It's been a battle getting everything ready to this point and we've faced a lot of adversity along the way. We were unable to make any test laps prior to this race and we won't have an opportunity to do so on Thursday because they will be completing the rained out spring race. But if the car decides it wants to throw us a bone and get after it this weekend, it's my job to be a step ahead of it as if I've been driving all year. I'm fully confident in everyone's preparations and what we've learned to get to this point, now we just have to perform."
Michalek Brothers Racing will open their weekend this Friday with one qualifying run at 4:00PM. Action will resume on Saturday afternoon when the team will make their second and third qualifying passes at 1:00PM and 5:00PM to set up the ladder for eliminations on Sunday. The eight qualified Top Alcohol Dragsters will then do battle with a Wally on the line Sunday starting at 12:00PM. Tickets are on sale and can be purchased here. For fans that are unable to attend in person, all racing action can be seen LIVE on the D3TV YouTube stream.
MBR would like to thank its Federal-Mogul Motorparts partners: Champion, Fel-Pro, and Speed-Pro, as well as Valvoline, Simpson Performance Products, and Hogan's Racing Manifolds for their continued support as the team worked to get their operation up and running.
For additional MBR information and updates, please "like" the Michalek Brothers Racing Facebook page, subscribe to MBR's YouTube channel, and follow @MichalekRacing on Twitter and Instagram.